Writer: Tom Taylor
Artists: Trevor Hairsine, Gigi Baldassini, Stefano Gaudiano and Tom Derenick
Color Artist: Rain Beredo
Letterer: Saida Temofonte
Review by Steve J. Ray
The DCeased: Dead Planet hardcover collected edition is finally here, and whoa-boy is it good!
It can truly be said that I've been dying for this book to come out… sorry.
The Story So Far
Five years have passed since the end of the original series, and we have an all-new Justice League. Yes, we still have a Batman, a Wonder Woman, and a Superman; but they're Damian Wayne, Jon Kent and Cassie Sandsmark. My, oh, my… they grow up so fast, don't they? Add in Green Arrow, Dinah Lance – The Green (Lantern) Canary, and the other citizens of a world they've dubbed "Earth-2" (gotta love it) and the future looks bright… at least for a couple of pages.
The book starts with a recap of the original DCeased story, where the anti-life equation laid waste to the Earth, and made undead savages of her population. The original Batman, Superman, Green Lantern, Aquaman and The Flash perished, but – as seen in DCeased: Unkillables – an undead Diana Of Themyscira still roamed the planet, destroying every survivor she could lay her murderous zombie hands on. It's terrific the way Tom Taylor catches up new readers, and rewards die-hard (sorry) DCeased fans, at the same time.
Return To The Forbidden Planet
Readers who've been on the DCeased train from the start will know that Cyborg was the catalyst for Darkseid's fatal formula being unleashed. So, why would Vic Stone – now just a sentient, damaged, half dead head – summon those who fled Earth five years earlier? The surprise will shock and surprise you.
There's a revelation… not! This is a Tom Taylor story, so feeling those particular emotions is pretty much a given.
Art To Die For
The other guarantee is that the book looks great, just look at the preview pages above. Original DCeased artist Trevor Hairsine is back, and looking great. The inks by Gigi Baldassini, Stefano Gaudiano, and Tom Derenick are sublime, and Rain Beredo is a force of nature. One thing that's been true of every iteration of this tale is that it's always looked as brilliant as it reads. The fact that this book has three inkers is astonishing, because the art is consistent throughout, and all of them make Trevor Hairsine's pencils shine. This is tremendous work.
The same can be said of Saida Temofonte's wonderful lettering. Isn't it cool that this consummate calligrapher has the word "font" in her surname? It isn't just a job, it's a way of life.
Seeing President Lois Lane is reward enough, but having a world where Alfred is alive, whereas Bruce Wayne and most of his Robins are dead, makes me pine for Mr Pennyworth. The way that this status quo is almost a total reversal of what's happening in the main DC continuity, makes it even more bittersweet. What's it all about, Alfie?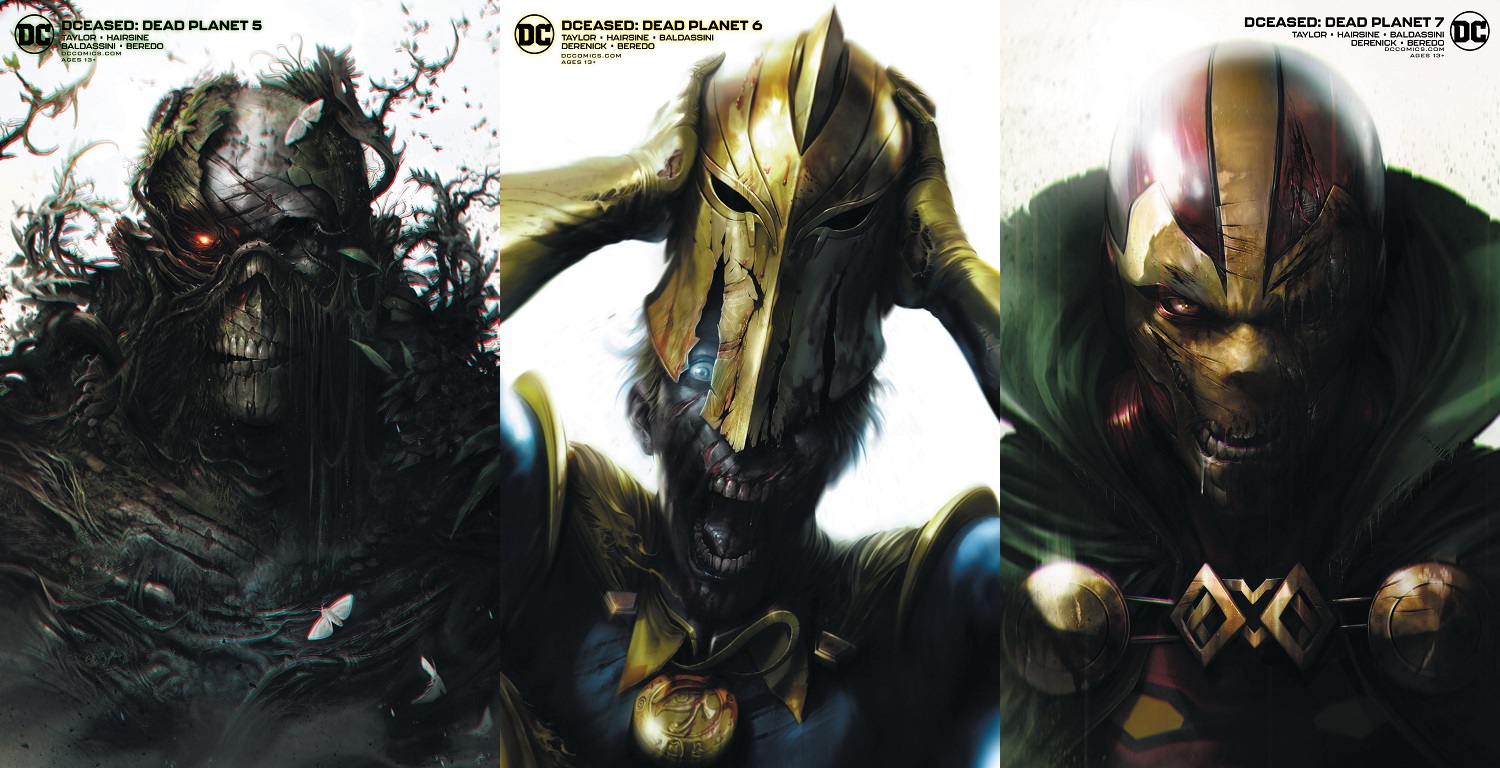 Demons, Wizards, And Swamp Things
As we've come to expect from the DCeased universe, we see DC's greatest characters brilliantly written and drawn, but experiencing things that their "in continuity " counterparts never have, and hopefully never will. Tom Taylor knows these people, as his brilliant Hellblazer: Rise And Fall story clearly shows. The version we get in this book is every bit as awesome. The Liverpudlian Warlock is at his conniving and manipulative best in this story, which means that no-one is safe, apart from the world as we know it, if his plans succeed.
I really was transported back to my tweens too; seeing Swamp Thing, Etrigan, and a few other magical mainstays, transported me right back to the earliest Vertigo years. Yes, this book clearly homages the works of the great Alan Moore, and Jamie Delano. The great art team illustrates vintage versions of these characters, plus a few other sorcery based super heroes too.
What I love about the whole DCeased saga is that we get characters that act exactly as I would expect them to, but more importantly, also exactly as I would hope. Tom Taylor clearly has a ton of love for the denizens of the DC Universe, as he writes them from a standpoint of someone who has clearly enjoyed their adventures for a long, long time.  Some would argue that he actually hates them all, particularly considering the ways in which he kills them, but, while they live they're their ultimate selves.
Life? Don't Talk To Me About Life…
Some writers and artists excel at action, others are more at home with dialogue, or emotional content. Few can produce shining examples of both as consistently as the fine talents behind  DCeased: Dead Planet. We get drawn in by the (all-too human) superhuman characters, thrilled by the action, terrified by the monsters, and hooked on the spectacle.
The DCeased saga ranks amongst those few series that I devour digitally, collect monthly, and that I also invest in the collected editions of. I've read and loved DCeased, DCeased: Unkillables, and  DCEased: Dead Planet, and trust me when I say that the minute I get my hands on the collected edition of DCeased: Hope At World's End, I'll be dissecting that one, too (morbid pun fully intended). World's End has, thus far, only been released digitally, and we don't get review copies for digital first books from DC. For those, like us, who prefer physical, paper copies of their comics, fear not! This story will be getting a physical, collected edition release too.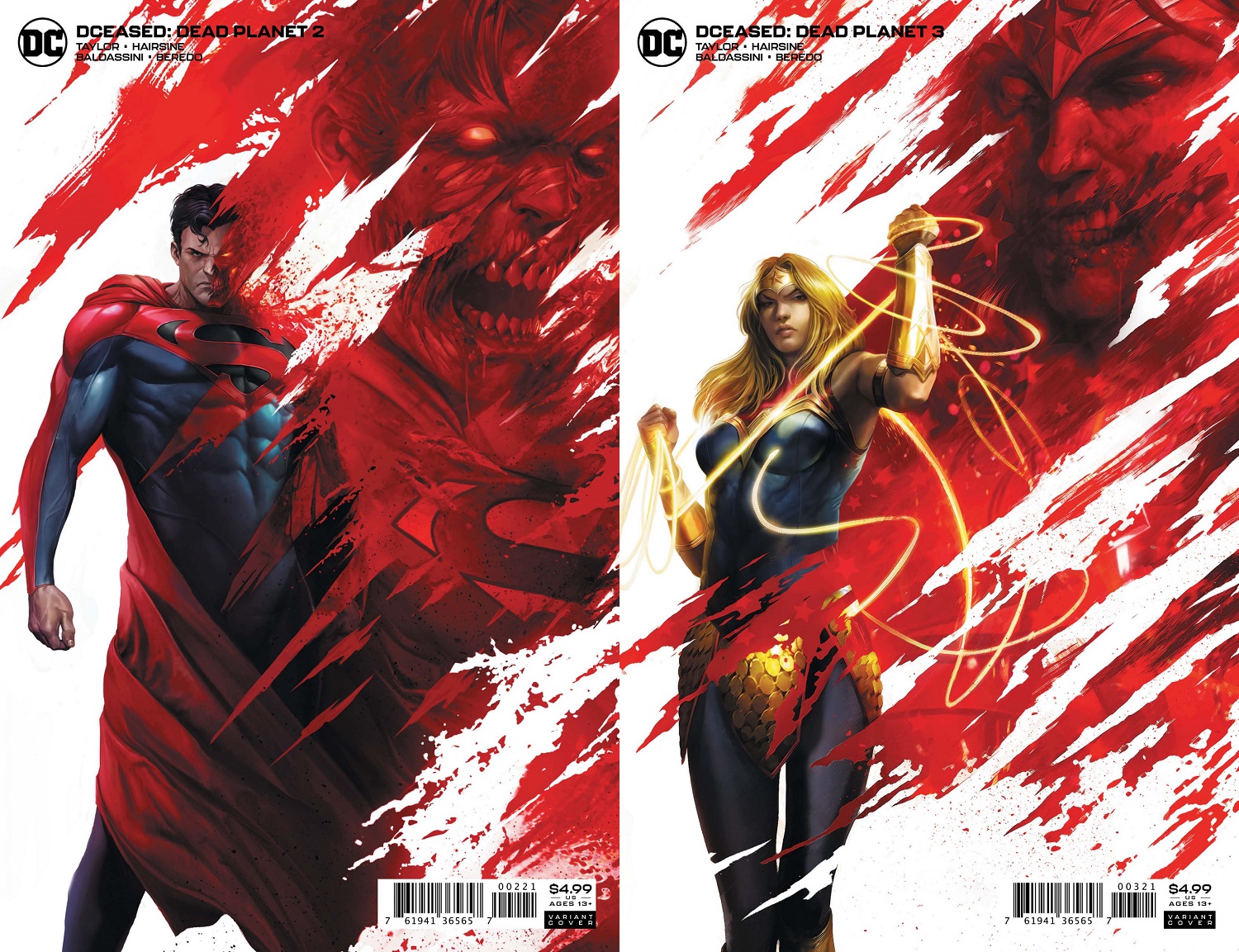 Conclusion
While many fans love the violence, viscera, blood and gore (who wouldn't?) there's a lot more to the DCeased saga than that. Even though these pages do contain lots (and lots, and lots) of (excruciatingly violent) death, the underlying message is still a very positive one. Where there's life – any life at all – there's hope.
I've loved every volume of this great story, so am patiently counting down the days until the final book hits the stands.
This gorgeous hardcover collection also features all the individual covers, a variant cover gallery, some behind the scenes looks at the making of the series, and a few of Trevor Hairsine's character design sketches. This is a must buy book.

Images Courtesy of DC Entertainment