"Failsafe" – Part Two
Writer: Chip Zdarsky
Artists: Jorge Jimenez & Belen Ortega
Color Artists: Tomeu Morey & Luis Guerrero
Letterer: Clayton Cowles
Review by Max Byrne
Batman #126 kicks along the Chip Zdarsky era with breathtaking pace. After a few pages of Batman ruminating on the state of his life and those around him, we're off to the races with some of the fasted paced, most brutal action you're ever likely to see.
Huge kudos to Jorge Jimenez for creating art that conveys the sense of desperation and frantic nature of Batman's conflict with this new, highly dangerous foe. Outmatched at every turn, Jimenez perfectly illustrates a Dark Knight that's beaten, bruised, and manhandled in equal measure. Every panel's laced with movement and blows that, when struck, land with a ferocity that cannot be measured.
As adversaries go, Failsafe is as dangerous as anything Batman has ever encountered. Even with the interventions of several Bat-Family members, this is a foe that simply cannot be permanently stopped. Whilst keen readers know that our titular hero always finds a way to overcome even the most insurmountable of odds, ones does wonder just how he could ever hope to best this lethal new enemy.
The mystery at play here's based around the origin of Failsafe. Did Batman create it? Probably… but how and when? Even the Dark Knight himself doesn't seem to truly know the answers. Heavily concussed and beaten, has this encounter affected his thought, or has it unlocked something long since buried in the past?
No spoilers here, but any fans of Grant Morrison's Batman R.I.P. run are going to instantly recognize a key piece of Batman iconography and costuming that blew this reader's mind! Where this could possibly lead to next is extremely intriguing, not to mention damn tantalizing. I'm a fan of callbacks to past continuity and deep cuts, so this development is right up my street.
Zdarsky has already nailed his colors to the mast just two issues into his tenure. No slow-burning plot devices here, instead he's come out with all guns blazing, creating a potent mix of intrigue, action, and a great cliffhanger ending. The aforementioned Morrison callback is proof positive that he knows his stuff and will undoubtedly produce a run for the ages.
Conclusion
Batman #126 is a great issue with lashings of action, character development, and a whopper of an ending. By taking away Batman's physical dominance, and also seemingly his correct state of mind, readers have been given some real meat on the bone to enjoy moving forward. Throw in a Terminator-esque villain and suddenly issue #127 has become even more of an essential purchase next month.
Heady days are ahead, bring it on!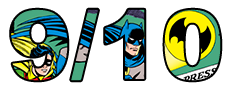 Images Courtesy of DC Entertainment