"Ominous Tidings", and "Sorry Excuse: Memory Two"
Writer: Greg Weisman
Artist: Christopher Jones
Color Artist: Jason Wright
Letterer: Wes Abbott
Review by Philip Clark
Okay, okay, okay. So, I was hooked from the first issue, but boy howdy, does Young Justice: Targets #2 just increases the level of hookedness?!? Weisman went fishing and caught himself a Philip.
Queen Perdita has been abducted and it's all hands on deck to save the young ruler. The League, The Outsiders, The Team, heck even Brion and his Infinitors are swooping in to try and save the day. Eagle-eyed readers will remember them from Young Justice: Outsiders.
Once you get through the wonderful "Ominous Tidings" then you're treated to yet another flashback memory. This time, when Green Arrow crashed into Princess Perdita's life.
To Infinitor And Beyond
Now then. When the Queen of a foreign nation is abducted by mysterious assailants on American soi, who gets drafted to save her? One of the great American superhero teams? No. Instead, a conference is called by King Brion of Markovia,  warning the heroes to not step foot in his land, because he and his Infinitors will save the Queen.
In the "Sorry Excuse: Memory Two" short story, we're given a flashback to the first time Green Arrow meets the (then) Princess Perdita. The tale also gives little insight as to why Oliver and Dinah were posing as scientists for Perdita's visit. One mystery needs to be solved before the other I suppose, and right now we need to find out why Perdita was abducted.
Conclusion
Young Justice: Targets #2 is an absolute scorcher of an issue. I said I couldn't wait for it in my last review and boy did Weisman and the creative team deliver! It's written exactly as the show is, the drama is intense and the action is fast-paced. I really can't gush about the writing enough. That doesn't take anything away from the artwork however, Jones does a fantastic job. Honestly, it feels like the characters are just ripped from the animation studio and put directly into the pages of the comic.
Yet another stellar performance from the creative team. Long may they reign.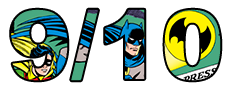 Images Courtesy of DC Entertainment