Writer: Chip Zdarsky
Artist: Carmine Di Giandomenico
Color Artist: Ivan Plascencia
Letterer: Pat Brosseau
Review by Steve J. Ray
This series has always looked great, but the first three issues didn't impress me, in terms of story. Last month's chapter, however, was really good, and now Batman: The Knight #5 has delivered in every way. Now this story's really starting to cook!
Chip Zadarsky is clearly a man with a plan. He's setting up some solid groundwork, both for Bruce Wayne/Batman's future, and for his own as the new writer on DC's flagship Batman series, starting with issue #125. In Batman: The Knight issues #1-#3 we met a few of the people that trained Bruce in his early years. We saw him at school, and we even met his psychologist (and eventual enemy) Dr. Hugo Strange.
Those chapters, while interesting, still felt like they were written by someone trying to make his mark on the Batman mythos. Issue #4, though, clearly showed a love and respect for the work of the creative talents that came before him, meaning that my respect levels immediately shot up a few notches. Batman: The Knight #5 has impressed me greatly. In this issue, we see a skill that defines Batman as one of the greatest crime fighters in fiction, but it's one that has frequently been ignored and often undervalued.
Of course, everyone knows that the Dark Knight is one of the finest martial artists in the DC Universe, and the World's Greatest Detective, but only a real fan knows that he doesn't just blend into the shadows while in costume; he's also an incredible mimic and a master of disguise, and infiltration. We see him start on this path in this issue, and not only is this beautifully illustrated by Carmine Di Giandomenico and Ivan Plascencia, but Chip Zdarsky has also written a story that had me gripped, and intrigued from the opening scene to the final page.
I no longer get the feeling that this is a writer saying, "Look at me, I'm writing Batman", now I feel like we've got a creative talent who's saying, "Wow… I'm writing Batman. I love this character".
I have to commend the wonderful Pat Brosseau for his lettering in this issue. The entire look and feel of this series owe as much to him as to the brilliant artists. This chapter is extremely dialogue-heavy, but Pat's gorgeous dialogue fonts and Bruce's diary-style captions follow the action and lead the eye perfectly. There are no flashy explosions or sound effects for him to play with in this issue, but the book is a joy to read.
Conclusion
Now that's more like it. Batman: The Knight #5 is a great read, and has made me extremely excited for what's yet to come. Not only do I now finally want to read more of this series, set in Bruce Wayne's past, but I'm also a lot more interested to see what Mr. Zdarsky and the incomparable Jorge Jimenez have in store for us when they bring readers Batman's modern day adventures.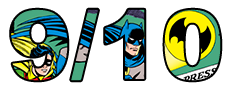 Images Courtesy of DC Entertainment