"Get Grayson" – Act Four
Writer: Tom Taylor
Artist: Geraldo Borges
Color Artist: Adriano Lucas
Letterer: AndWorld Design
Review by Steve J. Ray
Last month we saw Dick Grayson team up with his best friend Wally West, The Flash. In Nightwing #91, the two former Teen Titans go up against the KGBeast, the villain who shot Dick Grayson in the head, stealing decades of his memories.
If you thought that only Dick's Bat-Family had a mad-on for this particular villain, wait until you see how The Flash reacts!
Tom Taylor writes every character like he actually knows them. Of course, as he's most likely grown up reading their adventures since he was knee-high to a grasshopper, he probably does. The difference is, his dialogue feels more like he's actually hung out with these dudes and partied with them, not just experienced their four-color adventures, like the rest of us.  This is a writer who delivers characterization, action, dialogue, humor, tragedy, and pathos with equal aplomb. These aren't two-dimensional beat-em-ups, this is wonderful, textured, and layered storytelling.
The world that Nightwing's been inhabiting for the last year has been nothing short of awesome. In my opinion, the last 13 issues of this title have ranked amongst the finest comics I've read in years, and the very best Nightwing issues of all time. Of course, Tom Taylor's writing is a large part of this, but regular series artist Bruno Redondo has landed himself a place in my comics hall of fame, and every guest artist has brought their A-Game too.
Case in point is Geraldo Borges, the gentleman who brought Dick Grayson and Wally West together for Nightwing #91, and its predecessor. The storytelling, movement, pacing, layouts, action, and characterization in this issue are all lovely. While Geraldo's art is very different from Bruno's, the amazing colors by Adriano Lucas help make this run always feel like one, glorious, singular narrative… no matter who's been providing the line art.
I love that the recent team-ups with Jon Kent and Wally West have felt so different too. Even though the new Superman is one of the most powerful beings on Earth, Dick feels like a mentor for him. Wally West is also a powerhouse, yet his love and respect for this "normal" human being is palpable and moving. I love Dick Grayson, and it's clear that all his comrades and creators feel the same way.
Conclusion
Nightwing #91 is, unsurprisingly, another must-buy issue. We get action in abundance, extreme emotions, plot twists, character, and plot developments aplenty. This title is one of, if not the, very best superhero comic out there.
Of course, I do urge everyone to also pick up Tom Taylor's Superman: Son of Kal-El, and Jeremy Adams' The Flash, too. They're awesome.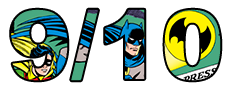 Images Courtesy of DC Entertainment