"Batman: Beyond The White Knight" – Book One
Writer/Artist: Sean Murphy
Color Artist: Dave Stewart
Letterer: AndWorld Design
Review by James Attias
Welcome to the future Gotham City. All our favorite characters have aged like a fine wine and it's time to find out what everyone has been up to since we saw them last. Welcome to Batman: Beyond The White Knight #1
Batman Beyond
This story wastes no time jumping in at the deep end. For those who don't know, Sean Murphy, author of the White Knight series, is a huge fan of Batman '89 and Batman: The Animated Series. Hence the myriad of winks, nods, and Easter eggs throughout these books related to those wondrous Batman highpoints. This book, like most of the others, starts with some previous knowledge being required.
We start our story with a young Terry McGinnis being guided through the ruins of what was Wayne Manor. He's searching for "the most powerful bat-suit" I think we all have a feeling which suit this is going to be, but we don't have to wait long to find out. The question is, who's guiding our young Schway hero, and why should we be worried when we find out.
Bruce Wayne, now an inmate of Stonegate penitentiary for (judging by his wrinkles) around 17-18 years shows elements of emotional growth when we start hearing what he has to say to a now middle-aged Jason Todd. It's very interesting to see the dynamic of the two in this universe. For those of you who don't know; Jason Todd was the first Robin in the White Knight Universe. This is the first time that's really been explored in depth. So it's very interesting for us Bat-family nerds! Something else we should all be prepared for in this series is… a character we're all emotionally attached to usually dies. You heard it here first. My bet is Jason.
Bat-fam Beyond
We're reintroduced to the other surviving members of the Bat-family, each having aged up a bit and parted ways since Bruce stopped taking visitors. What we learn from Duke Thomas is that Dick is now in charge of the special Gotham Task Force (wearing Bat-themed suits). Barbara's now Commissioner Gordon, and she and Dick are no longer on speaking terms. There are a few more elements to Duke's story that drive the story and Bruce to take action, but I'll leave you to read those for yourself.
Harleen Quinzel, Gymnast, Doctor, Murderer, Mother
We're also treated to seeing what Harley and her two kids are up to; after all these years. the last time we saw her was in her own spin-off title from this series which was a must-read! It turns out naming one of your kids after Batman and one after the Joker isn't that great for their mental health. (Not to mention their images in their Gotham high schools). I'm sure these kids will have a big part to play in this story as it seems they are around the same age as our soon-to-be new Batman Beyond!
Conclusion
Batman: Beyond The White Knight #1 is a great read. A thrilling Batman story, with minimal Batman. I love the White Knight Universe, so can't wait to see more from this story and the spin-offs that are already slated for release.
This is highly recommended to anyone who loves Comics, Batman: The Animated Series, and Batman Beyond.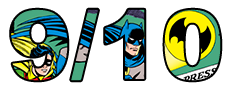 Images Courtesy of DC Entertainment