"Incoming"
Writer: Cavan Scott
Artists: Jose Luis and Jonas Trindade
Color Artist: Rex Lokus
Letterer: Carlos M. Mangual
Review by James Attias
 Titans on HBO Max Season 3 has arrived on Netflix in the UK, so this comic is the perfect warm-up and who's who of characters while watching. Also, Titans United #4 is EPIC!
Colorful Explosions! 
I usually ramble a bit about what we saw in the last issue, or what's happening in this one before getting into the writing/art, but this month the art was outstanding… it really was a 10 course Michelin star treat for the eyes! Brava to Jose Luis and Jona Trindade. I salute you both, as I was absolutely blown away by how great each character, set piece, and page looked. Amazing work!
Divided We Fight
This series has been a non-stop roller-coaster since issue one, and that escalates even more here. It's really great having this lineup of titans fighting together, both on-screen and on the page, as no ongoing series can interfere or prevent someone from being present due to them currently being dead, or headmistress of Teen Titans Academy. This book may have been dreamed up to help fans of the TV show jump into the world of comics, but as a hardcore fan of the source material I have to say this book has me very impressed; it's made lesser characters more formidable, and others who haven't been around for a while feel like a clear and present danger. All this is just really ticking all my boxes.
We see the Titans stretched pretty thin, with new meta-humans popping up all over the world. Lady Vic's looking deadly and dangerous (and she introduces a new shadowy ally?) We also see Blackfire, still torturing poor Superboy (for the third issue in a row). I, for one, can't see where all of these threads are leading.
Conclusion
Titans United #4 was a step up from all the previous issues in terms of art and story. I can't wait for the next issue just so I can gush over the visuals once again. Grab a copy and drool all over it like I did, but read it first! You won't regret it.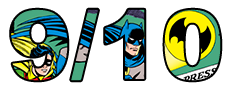 Images Courtesy of DC Entertainment. Review dedicated to New Tenn Titans Co-Creator, The Legendary George Perez.