"Mayor Mayhem" – Part Three
Writers: Alan Burnett and Paul Dini
Artist: Rick Burchett
Color Artist: Monica Kubina
Letterer: Josh Reed
Review by James Attias
Joker? Riddler? Two-Face? Who could be worse than three of Gotham's most feared rogues? A politician, that's who! One with a vendetta against The Dark Knight and a dark secret. Don't believe me?! Read Batman: The Adventures Continue #2.7 and see for yourself.
Vote For Mayhem
The pieces of the puzzle are finally starting to come together. The hidden cogs in Mayoral candidate Mayfield's twisted plan to take over the city are finally revealed, but is it too late for the caped crusader and his allies to take down this charismatic charlatan before he can be voted in by the people of Gotham?
I've really enjoyed this story, as it even kept me, a seasoned Bat-nerd, guessing the entire time, (no small feat). With new components from Batman-lore added to the classic Batman The Animated Series universe, this series has kept its promise to fans everywhere, so be sure to give both seasons a try!
Mad As A…
Who could possibly have the skills and the lack of morals to help a corrupt politician to bend the people of Gotham to his will? The one, the only, The Mad Hatter himself. What does this twisted little man have to gain from all this? Jervis Tetch has been popping up all over the multiverse of late, in a very similar way to how Scarecrow was this year (and he turned out to be the big bad of 2021) I'm thinking Mr. Tetch will have his time to challenge Batman at some point in 2022. You read it here first.
This month's issue was a great read, very well written, and drawn to perfection. Although a question to the creative team from a pedantic fan – Is Hamilton Hill Jr. drawn to look exactly like Jordan Hamilton (of the BTAS episode Be A Clown) Does Hamilton Hill have two sons? I'd like a little bit of clarity, but I did love the story. So, no rush.
Conclusion
This season's been wonderful, I enjoyed it all. The perfect amount of New, shaken over a healthy serving of nostalgia. If you like Batman: The Animated Series and/or if you like comics, definitely give this one a go!
Batman: The Adventures Continue #2.7 is a comic lovers type of book!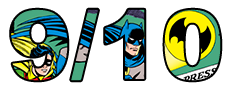 Images Courtesy of DC Entertainment