"Justice League Universal"
Writer: Chip Zdarsky
Artist: Miguel Mendonça
Color Artist: Enrica Angiolini
Letterer: AndWorld Design
Review by James Attias

This will be the toughest review I've ever had to write. I can't give anything away, so you'll just have to read Justice League: Last Ride #7 to find out what I'm losing my mind over!
Part Of The Journey, Is The End
This series was like a breath of fresh air to me. The classic line-up, vintage bad guys, threats old and new, all drawn and written to perfection. The twists and turns kept me guessing all the way to the last issue!
We're in the middle of the battle; foes from around the galaxy are closing in on the league, Darkseid now has the powers of a Green Lantern, and Cyborg Superman/Brainiac has an army of Manhunters and a Kryptonite knife! I'm hyperventilating! This issue was amazing!
When I started reading this series I had a feeling that one, if not all of the members of the League, were going to die. I mean it's called Last Ride, after all. So, when reading this issue I was turning each page with a gasp ready. I was shocked when [SPOILER] saved [SPOILER] from being [SPOILER]-ed by [SPOILER] by [SPOILER]-ing themselves! Can't say it clearer than that!
This started as a story of a fractured team gritting their teeth and re-uniting over a common foe, but ended with a team of allies, brothers, and sisters trusting each other without question, knowing that everything they were doing was for Justice and to save the universe!
Conclusion
A Fantastic story, with an ending I wasn't expecting. Wonderfully written, to the point of bringing a tear to my eye, and consistently being drawn to perfection. Posters, t-shirts, and memes will be jumping off the pages of this book in no time. This was a fantastic Justice League story. If you can go back and buy the issues do so, if not, definitely check this one out when it's released as a collected edition. It truly was a pleasure to read and review.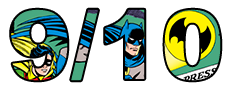 Images Courtesy of DC Entertainment