"There Is No Escape."
Writer: Chip Zdarsky
Artist: Miguel Mendonça
Color Artist: Enrica Angiolini
Letterer: AndWorld Design
Review by James Attias

The wait is over! It's time for Justice League Last Ride #6. I like this series so much I re-read the previous issue before this one, thinking it couldn't be beaten! THEN, I WAS BLOWN AWAY!
ANOTHER TWIST?!
Mr. Zdarsky, I wish you could see me while reading your story. It's a rollercoaster of emotions, as I went from sheer shock and awe to screaming like a 14-year-old. Where to start? I feel like I read this issue in 10 seconds flat. It's a high-paced thrill ride from cover to cover. Who would win in a fight? The Justice League or all the bad guys ever armed with Krypto-knives! (That's right!)
"The story takes a huge twist in this issue" – I said that last month, too. I wish I could go back and shout at my past self! I'd say "You think that's a twist?!?". Events are starting to come to a head, as we're finally shown what Darkseid's plan was all along. We see who was using Lobo as a pawn in this grand scheme. Best of all we get to see the League kick some serious @$$!
Mr. Mendonça, it's official, your art equates to a modern masterpiece. Each time I read an issue drawn by you I dream about a full Mendonça Bat-family portrait, framed and on my wall! I can't give too much away about a certain reveal this issue, but the outfit a certain character is wearing is awesome and terrifying! Keep up the amazing work sir!
Conclusion
I Loved it. I think you'll love it, too.
That should be my conclusion, but I love writing about how good this book is, so I'll add more. This issue is like an M. Night Shyamalan film that was made to impress Michael Bay! When this story ends I will cry! Don't let it stop.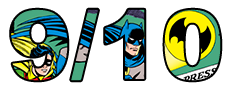 Images Courtesy of DC Entertainment