"Way of the Demon"
Writer: Joshua Williamson
Artist: Jorge Corona
Color Artist: Luis Guerrero
Letterer: ALW's Troy Peteri
Review by Fay Clark
Okay, so listen. After how we left the last issue, I've been anxiously awaiting Robin #4. Honestly, I can't believe they expected me to be patient about it! I'm always so hyped whenever a new issue of this title comes out, and it's very quickly become one of my favorite reads.
Family Bonding has never been perfect
There's the normal kind of family bonding, like bowling night, or game night. Then there's the DC version; like training to kill someone on a remote island with your grandfather, a man that should've died around 100 times over. I guess that makes him somewhat of a specialist. Joshua Williamson left us with a cliffhanger last month, so I'm happy that this time we get to jump right into the fun stuff.
I have to say this might be my current favorite series to review, as so much happens in  Robin #4. Williamson really knows how to draw the reader in, and keep them wanting more. Whether it's Ravager and her mysterious dealings, or Damian needing to know more about the island and why all so much has been kept from him.
I adore the special guests in this issue, even though Damian himself only seems happy to see one of them. To be perfectly honest, I don't blame him… I'm pretty sure I'd feel the same way. Williamson has a special talent of writing awesome dialogue, that I can actually hear in the tone of this whiny child/tired teenager, or a self righteous old man. The conversations in this issue are definitely entertaining, and on point.
Ra's Majestic Hair
Okay, I know this is a weird thing to be obsessed about, but I love the depiction of Ra's Al Ghul's hair in Robin #4. Jorge Corona (unfortunate name, sorry about that bud) has come in and smashed it. The artist has a slightly different way of drawing these characters, yet somehow they feel exactly the same. I adore how the special guests have been drawn, especially Ra's, though Corona has even made Ra's hair feel like a guest star. I couldn't take my eyes off it in every panel, as it flows so majestically, and draws your eye to it's swishy magnificence. I think Jorge's art works well with Luis Guerrero's coloring, and Guerrero has once again smashed it. Everything looks vibrant and alive.
Conclusion
I need more of Ra's long majestic hair from Jorge Corona, I always need more of Joshua Williamson's writing. I love this storyline and can't wait to see more of Connor Hawke and Damian interacting. I also want more of Ravager (she's awesome!) Damian's a much more interesting character than I originally gave him credit for, then again that might just be the way Joshua Williamson writes him!
I need to know the outcome of what happens immediately, after the last page of Robin #4. Like… are you kidding me?! Please, I need this now!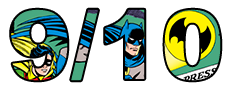 Images Courtesy of DC Entertainment