"The Neighborhood" – Part Four, "Exclusive" and "3 minutes"
Writer: Mariko Tamaki
Artists: Victor Bogdanovic and Johnathan Glapion
Color Artist: Jordie Bellaire
Letterer: Aditya Bidikar
Review by James Attias
The latest issue of Detective Comics #1037 is a triple story treat! We find ourselves falling deeper into the mystery behind the death of the daughter of one of Gotham's elite (and most evil!) We also learn more about the lives of the people who live in Bruce Wayne's new neighborhood and get a glimpse into the past, showing us Lucius Fox's first night as part of the Bat-Family.
That Man Is A Monster. So Is That Man, And So Is…
The primary story had me on the edge of my seat and gasping for air every time I turned the page. The menacing Mr. Worth; (whom I can only describe as the love child of The Kingpin and Kraven the Hunter from Spider-man) is a one-man wrecking crew tearing his way through Gotham. Authority never phases him, he screams at everyone he interacts with and has a temper that would make the Hulk look tame (I'll stop with the Marvel comparisons now, I promise). We're also introduced to a new villain, who wouldn't be out of place in the Men In Black franchise, as he's quite Vile. Oh, Batman, you've got your work cut out for you… again.
This issue starts with Batman and Huntress, both now chasing down new leads (and new bodies) in the Sarah Worth murder investigation. Something that's not often said, but at this time Batman could use a bigger team! The bodies are piling up, the villains are growing in numbers, both legal and illegal, and someone saw Bruce Wayne with one of the victims! I mean I'm sure Batman almost misses the days when his greatest threat on a case was a wind-up exploding penguin.
Art Imitates Art?
With this issue, the wonderful Dan Mora treats us to a cover that wouldn't look out of place as a movie poster, and we also get the treat of seeing Lee Bermejo drawing Huntress on his variant. Inside the book we have art by Victor Bogdanovic and Jonathan Glapion; with Bogdanovic, I was convinced last year he was Gregg Capullo using a pseudonym, and when they pair him with Glapion this book feels like the art was taken straight out of the fantastic New 52 Batman run (deliberately?) The art is wonderful and really gives us a great Batman to look at, darting across the rooftops; and a somewhat disheveled Bruce Wayne to watch, as he's struggling with too many plates spinning in front of him.
Byline By Deb Donovan
Our second story of the book is about and from the perspective of Deb Donovan. Who's being described as "Batman's Lois Lane", which really just means that she's a reporter in Gotham… they share nothing else in common. This story's told from her perspective, which gives us a better insight into her and tells us a lot about her opinions on the Gotham elite. These views shine a light on yet another side of Mr. Worth, amongst others, like Lucius Fox and Bruce himself. This opinionated reporter has a taste for scotch and a sharp tongue to go with it. I hope she survives in Gotham long enough for us to enjoy more of her candid news stories.
Child Soldier
The final story of the issue is written by the powerful, and sometimes quite angry, John Ridley. Recently he's been writing the amazing Other History of the DC Universe series, which if you haven't read – you should!
This story takes place over the span of 3 minutes and shows Lucius with Alfred in the bat cave. During that time he doesn't shy away from telling everyone's favorite butler how he feels about Bruce bringing young Richard into the world of bullets and capes at such a young age.
I loved this story, but I can't help but feel that, after reading the works of John Ridley for a while now, he always makes the reader feel guilty for cheering on their heroes when really there are other problems that should be addressed first. This is a  sign of a talented writer evoking emotion from his readers.
Conclusion
Another week another amazing issue of Detective Comics, please keep them coming. This creative team is quickly carving its way through to becoming one of my favorites ever. As I said in my last review of Detective Comics #1036; this series always solves the mystery of which is the best book out each week!
Oh, you'd better believe that Detective Comics #1037 is highly recommended.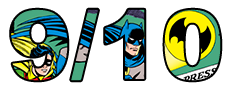 Images Courtesy of DC Entertainment