The most Rock'n'Roll comics series of all time may have come to its end on the printed page, but it's a gift that keeps on giving. DC Entertainment and Loma Vista Recordings have unveiled the Dark Nights: Death Metal soundtrack, and it's absolutely face melting!
Seeing – and hearing – is believing!
Announcing
DARK NIGHTS: DEATH METAL SOUNDTRACK
From DC and Loma Vista Recordings comes the Dark Nights: Death Metal Soundtrack, executive produced by Tyler Bates; companion piece to the best-selling
comics and graphic novels by Scott Snyder and Greg Capullo.
The soundtrack is available to pre-order now on digital download, CD, and 2xLP – with exclusive Superman,
Wonder Woman, and Batman vinyl variant covers, limited edition character trading cards, and more!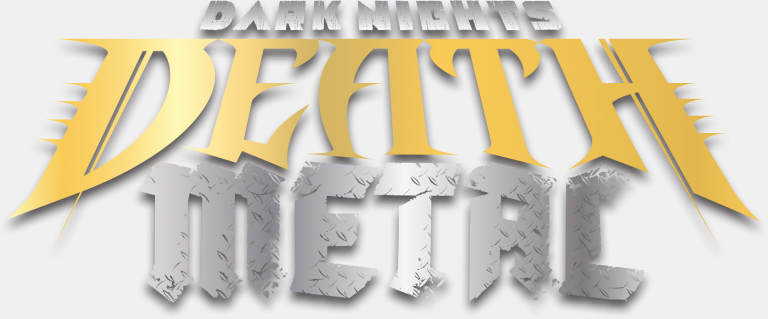 OFFICIAL TRACKLIST
1. Mastodon – "Forged by Neron"
2. Chelsea Wolfe – "Diana"
3. HEALTH and Tyler Bates (feat. Chino Moreno) – "ANTI-LIFE"
4. Maria Brink and Tyler Bates (feat. Andy Biersack) – "Meet Me In Fire"
5. Grey Daze – "Anything, Anything"
6. Rise Against – "Broken Dreams, Inc."
7. Manchester Orchestra – "Never Ending"
8. Denzel Curry and PlayThatBoiZay – "Bad Luck"
9. Carach Angren – "Skull With a Forked Tongue"
10. Starcrawler – "Good Time Girl"
11. GUNSHIP and Tyler Bates (feat. Dave Lombardo) – "Berserker"
12. Greg Puciato, Tyler Bates and Gil Sharone – "Now You've Really Done It"
13. Show Me The Body – "Stone Cold Earth"
14. IDLES – "Sodium"
15. Soccer Mommy – "Kissing in the Rain"
STREAM THE FIRST TRACK
MASTODON "FORGED BY NERON"
Mastodon's album-opening buzzsaw "Forged By Neron" is out today and the lead single sets the tone by name-checking a demon lord of Hell who appears throughout the series.
"We are super excited and honored to be part of the Dark Nights: Death Metal Soundtrack! We've all been fans of DC Comics and the Batman universe since we were kids, so it really means a lot for us to be able to add something to that world."
– Brann Dailor, Mastodon
SPECIAL EDITION SOUNDTRACK VARIANTS OF
DARK NIGHTS: DEATH METAL COMICS 1-3
Pre-order Special Edition Soundtrack Variants of Dark Nights: Death Metal issues 1-3, with custom covers and flexi singles featuring Rise Against, Grey Daze, and Denzel Curry.
CATCH UP ON THE MOTION COMIC
SONIC METALVERSE EPISODES 1-7
DC LOGO, DARK NIGHTS: DEATH METAL, and all characters, the distinctive likenesses thereof
and related elements are trademarks of DC Comics (c) DC Used with permission.
Copyright © 2021 Loma Vista Recordings, All rights reserved