"Elder Wisdom"
Writer: Paul Giacoppo
Director: Christopher Berkeley
Starring: Troy Baker, Greg Cipes, Zehra Fazal, Bruce Greenwood, Grey Griffin, Jason Marsden, Danica McKellar, Geoff Pierson, Maggie Q, Freddy Rodriguez, Mark Rolston, James Arnold Taylor, Mae Whitman.
Review by Philip Clark
EDITOR'S NOTE: Potential Spoilers Ahead!
"B.I.F, B.I.F, B.I.F,"
Yet another fantastic episode of Young Justice: Outsiders. 'Elder Wisdom' starts with action, that doesn't really seem to let up.
Lex Luthor is up to his old tricks again, pulling some strings behind the scene to try and undo the good name of The Outsiders. Their first real test is making sure they can keep their good public image, with the world's most influential man trying to shoot them down.
It's a very action-centred episode, and even though that's the case, we still manage to get some great character pieces. That's what I love most about Young Justice. I've said it in the previous review, and I'll continue saying it, but the character development and growth in this show is some of the best I've ever seen.
#WeAreAllOutsiders
Once again, this hashtag plays a massive part in the episode, as The Outsiders are fighting to keep up their good publicity. Not only that, but with the most recent mission being broadcast worldwide, some of the young heroes' parents are regretting their decision to allow their kids on the team.
Wonder Girl, Kid Flash and new member El Dorado, all need to convince their parents to allow them to still remain active. While this is happening however, Violet is revealing to Brion and Tara the truth about Gabrielle, her dead human host.
Finally, Luthor gets a taste of his own medicine, as the parents post on social media using the #WeAreAllOutsiders. Keeping up the positive publicity The Outsiders have had so far.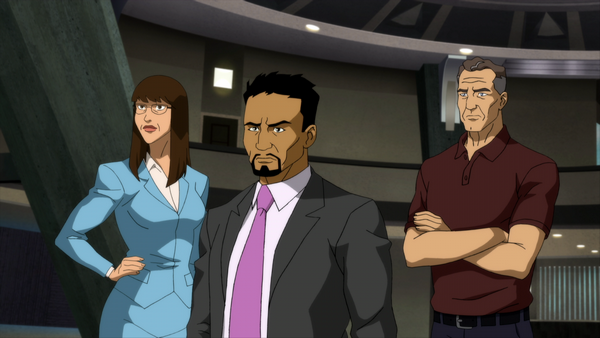 Conclusion
'Elder Wisdom' is a fantastic episode. One that blends action with character moments excellently. Beast Boy is becoming a good leader for The Outsiders, though I'd also like to see someone like Blue Beetle given a mission or two to lead.
The dynamic between The Outsiders and The Justice League is going to be very interesting going forward too. Wonder Woman seems to be about the only character left on the show that is keeping their toes firmly behind the line and on the heroic side of things. Batman and the little secret club of team leaders seem to doing exactly what The Light did in the first two seasons. Only time will tell if that lands them in hot water or not.
I hope we get to see more of Victor Stone and Forager in the next couple of episodes. As well as the aftermath of Violet's revelation to the Markovs.
Yet another solid episode.

Images May Be Subject To Copyright