"Illusion of Control"
Writer: Christopher Berkeley
Director: Greg Weisman
Starring: Steve Blum (Hency / Werner Vertigo / Count Vertigo), Greg Cipes (Garfield Logan / Beast Boy), Zehra Fazal (Violet Harper / Halo / Wendy Jones / Lian Nguyen-Harper), Grey Griffin (Helga Jace), Kelly Hu (Paula Crock), Bryton James (Virgil Hawkins), Stephanie Lemelin (Artemis Crock), Eric Lopez (Jaime Reyes / Blue Beetle / Scarab), Jason Marsden (Bart Allen / Kid Flash / Cameron Mahkent / Icicle, Jr. ), Zeno Robinson (Victor Stone / Leonard Smalls / Holocaust), Freddy Rodriguez (Eduardo 'Ed' Dorado Jr.), Jason Spisak (Forager), Lauren Tom (Traci Thurston / Celia Windward), Hynden Walch (Queen Perdita)
Review by Kevin Gunn
EDITOR'S NOTE: Potential Spoilers Ahead!
On A Special Episode of Young Justice: Outsiders (Kind of)
On March 24, 2012, Cartoon Network aired the "Agendas" episode of Young Justice; a Thanksgiving episode. Zatanna was dealing with losing her father to Dr. Fate three episodes earlier in "Misplaced," and Miss Martian was trying to comfort her. Flash-forward to seven years later and Young Justice: Outsiders' return to DC Universe after a six-month break. "Illusion of Control" sees another Thanksgiving. This time at the Harper home, instead of the cave. Forager tries to console Victor Stone, a teenager who was just merged with a Fatherbox by his scientist father in "Another Freak."
The parallels between "Agendas" and this episode are uncanny. A depressed teen without a family and searching for answers. The difference is Victor is not ready to join the team or be a part of any family right now, and who can blame him? Dr. Silas Stone all but ignored him until the accident.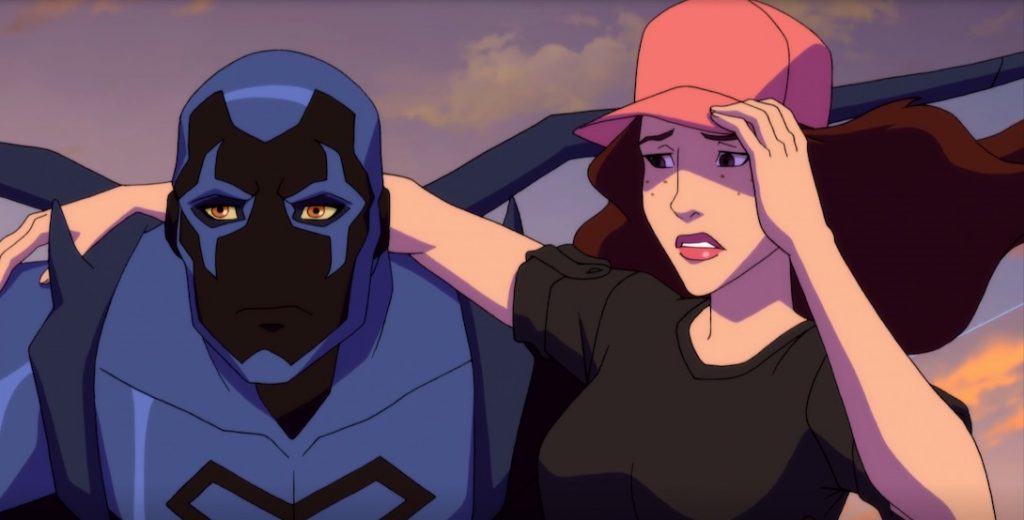 Another similarity between the two episodes (and other episodes) is that other secrets are unfolding, so what better time to reveal more secrets than the 16th episode? Onslaught tried to kidnap the occupants of the Meta-Human Youth Center. Fortunately, Beast Boy, Thirteen, Blue Beetle, Impulse, Static, and Wonder Girl stop the plot. They also decide that it's time to take the team public, and this is a departure from their typical M.O.
"Illusion of Control" can be a warning of things to come. Vietti and Weisman always hide things in plain sight. They told us so when they introduced Zatanna in season one episode "Humanity." Remember when they talked about The Cave? It wouldn't be too far-fetched of an idea that there's cautioning at play here. The question is, who has the illusion of control? Beast Boy, Aquaman, Batman, Wonder Woman, The Light, or Darkseid?
Conclusion
This episode was a good one, but I have to take away marks because there's some reworking of a previous plot. Everything else works for "Illusion of Control." Anytime we get to see any interaction between Artemis, and her mother is always welcome. It's also appreciated anytime we see the "freshmen" and "sophomores" working together to take down the bad guys.