Article by Adam Poncharoensub
Even though San Diego Comic-Con is two months away, it looks like those SDCC exclusive figures are already being announced. If you didn't know by now, aside from being one of the largest Comic book conventions in the US, it's also a haven for toy collectors to pick up exclusive and rare toys. By exclusive, I mean that it's only available for purchase and pick up from the convention, which is already pretty difficult to attend.
However, this new figure is going to be a little easier to nab than many others. It's available for pre-order now and will be shipped around August. The figure itself features the party dude Michelangelo from TMNT dressed in the Dark Knight's cape and cowl. The figure is equipped with different posed hands and a pizza, because a party dude isn't complete without his favorite food of choice.
Confused? I was too… until I realized that it's based on the upcoming Batman vs. Teenage Mutant Ninja Turtles animated adaptation, coming this summer. Clocking in at $29.99, it's a pretty darn reasonable price to put a smile on your face with his joy. Limited to 10,000 pieces, if you're a huge fan of TMNT, I suggest you grab this one before it's gone.
Take a look: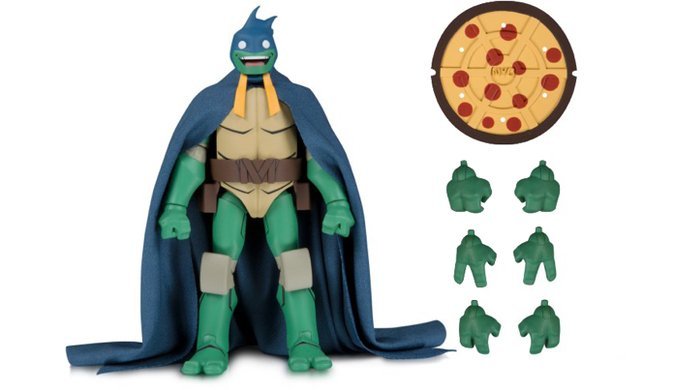 The piece is incredibly fun and silly… and might find itself standing goofily on my shelf. My only suggestion would be to make the cape and cowl detachable with different variations of it. It'd be totally awesome to pose Mikey on a gargoyle with his majestic cape waving in the air, similar to Jim Lee's iconic image.
It's available for pre-order here.
Batman vs. Teenage Mutant Ninja Turtles is available to download on May 14, with the physical media hitting shelves on June 4.
Check out the trailer below: