"Cat"
Writer: Tom King
Artist: Jorge Fornes
Color Artist: Dave Stewart
Letterer: Clayton Cowles
Minor Spoilers Ahead!
With The Flash crossover behind us, writer Tom King returns to Batman to re-instil noir-ish roots and continue the engaging "Knightmare" storyline.
This issue is yet another one-shot that shares the same thematic motif: Batman's worst nightmares. King appears to excel at these one-shot issues. He is able to touch on one or two interesting ideas and then expand them. Since they are only one issue long, though, the writer doesn't leave space for any narrative "Fat" or give himself time to fully divulge his worst writer indulgences.
While all of King's past "Knightmare" issues have been good, this one is stand-out. First, Batman is not an active protagonist in this comic. The main characters are Catwoman and the Question. This gives the book a chance to show how others see Batman. More interestingly, though, it allows a look into how Batman thinks others see him, in a roundabout way. When readers look at the issue through that lens, it becomes a stealth character piece on Batman. I must applaud King for such an unusual and innovative way of portraying the Dark Knight.
Another factor that puts this issue above the other "Knightmare" chapters is the fact that it is a meta-commentary. Back when Batman #50 came out, many fans were disappointed by Catwoman's reasoning for leaving Batman at the altar. Well, King directly addresses the concerns head-on here. More surprisingly, he actually agrees with his critics too. Somehow, he turned a criticisms into a fascinating plot point.
King's wonderful script is accompanied by beautiful work from artist Jorge Fornes. Fornes' art is a perfect compliment to King's noir-ish tones and dialogue. The style is a cross between the grungy look of Year One artist David Mazzucchelli and Michael Lark.
The oddest part of the issue is the inclusion of the Question. His appearance is sort of explained within the context of the storyline, though it doesn't make as much narrative sense as John Constantine's appearance in issue #63. Why would Batman think of the Question as a mouthpiece? Unfortunately, King's usage of the character is fairly generic too. There is no real hint of the Question's personality or any unique voice. It makes one wonder why was he chosen to be in this story at all.
Speaking of generic, another thing that's annoyed me about the comic is that both covers are completely deceiving. There's no appearance of a rogues gallery, nor does Batman do battle with any of the characters depicted. It's so disconnected from the interior's contents that it feels like they were generic covers that were picked at the last minute.
Conclusion
King's return to the title has heralded one of the best single issues in his run. It's insightful, unconventional, surprising, and meta, without being overly-indulgent. Some minor nitpicks aside do not derail the quality of this issue much.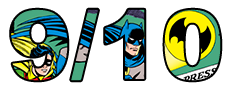 Images Courtesy Of DC Entertainment.