"Home Fires"
Writer: Greg Weisman
Director: Vinton Heuck
Starring: Troy Baker, Jeff Bennett, Denise Boutte, Nicole Dubuc, Zehra Fazel, Crispin Freeman, Bruce Greenwood, Grey Griffin, David Kaye, Stephanie Lemelin, Jason Marsden, Jesse McCartney, Danica McKellar, Masasa Moyo, Nolan North, Khary Payton, Marina Sirtis, Roger Craig Smith, David Sobolov, Kath Soucie, Jason Spisak, Deborah Strang, James Arnold Taylor, Greg Weisman, and Gwendoline Yeo
EDITOR'S NOTE: Potential Spoilers Ahead!
A villain from the Justice League's past hatches a plan to attack their families. And the Main Man accepts a contract to eliminate Forager.
Population Boom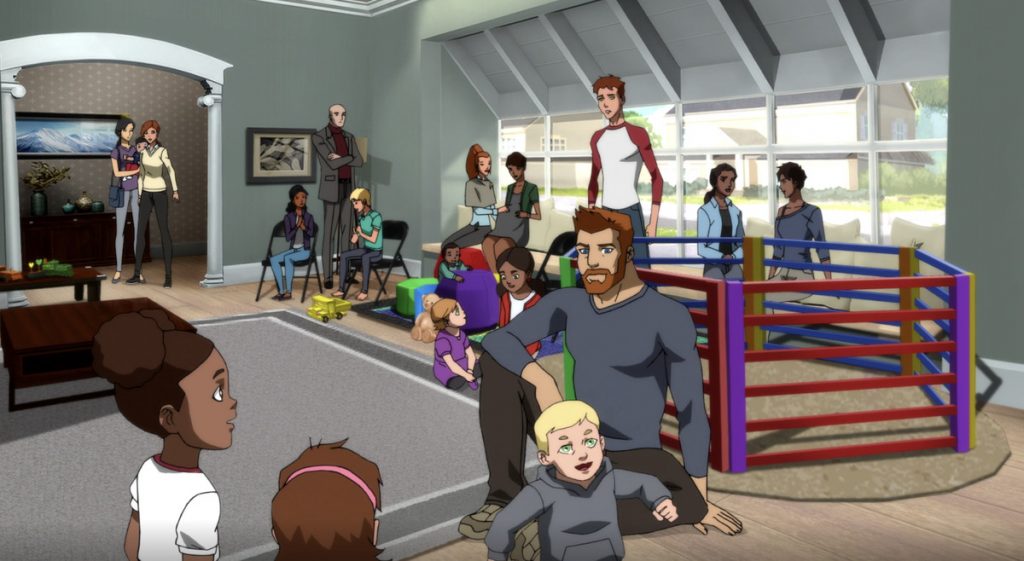 In the S1E8 titled "Downtown," we learn that Arthur Curry and Mera are expecting. Coincidentally, Orm is also present in the episode. Flash-forward to Season Two and we learn that Orm was once a member of the Light. Black Manta now holds his seat. Also during the five-year jump Rocket/Raquel Ervin and Iris West are also pregnant. We leap again to two years and Arthur Jr. has to be at least six or seven, Barry and Iris's twins are toddlers, and the League and "Team" members spark what would be a new generation of superheroes. We already bared witness to this in "Rescue Op," but this episode delivers even more children of heroes.
What is great about this episode is it helps to give us a true sense of how much time has elapsed in the world of Young Justice. Families have started (or are starting), and relationships are progressing. We also get more details about why the Light had to replace Ocean Master, and also why they have to keep the balance to restore their sense of order in the world. Evidence of this was also seen in "Evolution," and it gives the audience a sense of the magnitude the showrunners are making.
Switching gears, how well a bounty hunter is Lobo? I think his character was put to better use in Season Two's "Happy New Year" than in this episode. It was great seeing him in that episode because it was unexpected. In "Home Fires," it seems like a trick that has already been done. Maybe if someone from Apokolips came to kill Forager or even someone from his former hive, it would have carried more weight.
Conclusion
It's still an above decent episode. My gripes are minor because there is not much to complain about. I hope that we are fortunate enough to get a fourth season of Young Justice, and also that we get to see the lives of the next generation of heroes. If comic book history or the showrunners have any say, not all of them will be heroes…or get the chance to be.