"Manslaughter," Part 1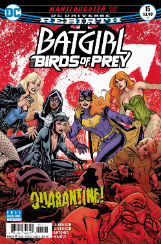 Writers: Julie & Shawna Benson
Artist: Roge Antonio
WARNING: MAJOR SPOILERS AHEAD!
CHARACTERS GALORE!!!
SO. MANY. CHARACTERS.
Right after reading the previous issue, I thought to myself:
"There is no way the next issue would top that many character appearances."
But I was wrong. So very, very wrong. As you'd guess from my opening line, issue #15 of Batgirl and The Birds Of Prey  is jam-packed full of iconic DC characters. This issue is packed to the brim full of characters. Seriously, if this issue was a bucket and the characters were the water, the bucket would be overflowing.
Right. Enough with the strange metaphors, let's continue onwards. Unlike issue #14's 'filler' story, issue #15 is thankfully a continuation of the series. An unknown and peculiar epidemic has swept across Gotham City, infecting its citizens and causing them to fall ill. Jim Gordon, Nightwing, the psychopathic Professor Pyg, Alfred Pennyworth and even Batman (only mentioned) himself have fallen ill to this strange plague.
Notice the similarities. The Birds of Prey have made the shocking discovery that only males are the victims of the plague and no females whatsoever. The Plague's strange nature have attracted the attention of various individuals. Lois Lane arrived in Gotham to investigate the Plague. Eventually, the severity of The Plague catches the eye of Amanda Waller, who later quarantines the entire city until a vaccine can be produced.
Determined to apprehend the Plague's fabricators, The Birds of Prey rally any help they can get. Oh Holy Bat-Ensemble, what a team they have!
I'd like to reiterate again that issue #15 has a lot of characters. I am amazed at just how well writers Shawna & Julie Benson were able to include so many characters into a 21-page comic. What astounded me even more was that all of these characters had a role to play, some way, to the story. I found the Plague to be a very clever plot device the writers utilised to unite all of these characters. Thanks to this brilliant story, DC fans everywhere will cheer in delight when they see all of their favourite DC characters in one comic.
Obviously, as evident from the cover, the titular Birds of Prey, Catwoman and Poison Ivy are present. But we also get appearances from Harley Quinn, Batwoman, Orphan, Spoiler, Gotham Girl, Green Arrow and even Clark Kent and Jonathan Kent in smaller cameo appearances.
I'm completely hooked on the story. I really can't wait until the next issue is released where the arc dwells deeper into the Plague's origins and it's perpetuators.
But…. oh my goodness….. it was that jaw-dropping, spectacular ending that won me over. I have already spoiled enough and will restrain myself from divulging anymore huge plot points. The only thing I will say is that it's sort of a homage to issue #11. Ok, that's all I'll say. You'll have to read the comic yourself or wait for my next review to find out.
My only gripe I have with the plot is that in some instances, I found the dialogue hard to follow. Especially in panels featuring many characters at once and there are many speech bubbles present. I found the overwhelming number of speech bubbles disrupts the dialogue's flow.
Conclusion
I'm going to say it outright, issue #15 is perhaps my favourite issue yet! This issue won me over completely with its expansive ensemble, fine artwork, intriguing plot and one helluva ending! Issue #16 can't come any sooner!?

Image Courtesy of DC Entertainment