"Summer of Lies" Part 2
Writer: Hope Larson 
Artist: Christian Wildgoose 
(Spoilers ahead)
Continuing immediately where issue 14 left off, Batgirl #15 opens in the Mad Hatter's hospital room where he begins to seize. With commotion outside the room, Batgirl and Nightwing part ways to handle the situations. The former Boy Wonder takes care of Hatter while Batgirl investigates the nurse's station. I love the contrasting imagery in the first few pages here—Batgirl is typically very bright and reminds me of teen dramas. But between the Mad Hatter and the Red Knight, it's darker than normal; but doesn't feel out of place. Having recently read the entire Batgirl Rebirth run, I can say this is one of my favorite issues. The fight with the Red Knight seems like the first tough fight Babs has had—even Nightwing is briefly taken down.
Something that I loved in this issue was the flashback scenes to when Barbara and Dick were in high school. I would love to see more of this—Batgirl and Nightwing have such a rich history, that it's nice to get a refresher of how it all started. In the last two issues, Hope Larson has really used the flashback scenes to help complement the present day story. As we find out that nanobots are controlling the Red Knight and the two girls from issue 14, we flashback to Barbara interning for her substitute teacher / co-worker, Ainsley—who is working on nanobot technology. Anybody else catch what Ainsley said about the hallucination in some of her test subjects? Teenage Batgirl is currently investigating those symptoms with Robin, how didn't she instantly put that together?
THE KISS 
Even though we see the deepest intimacy between Barbara and Dick in the past, when they reveal each other's secret identities, it's the present day kiss that has me intrigued.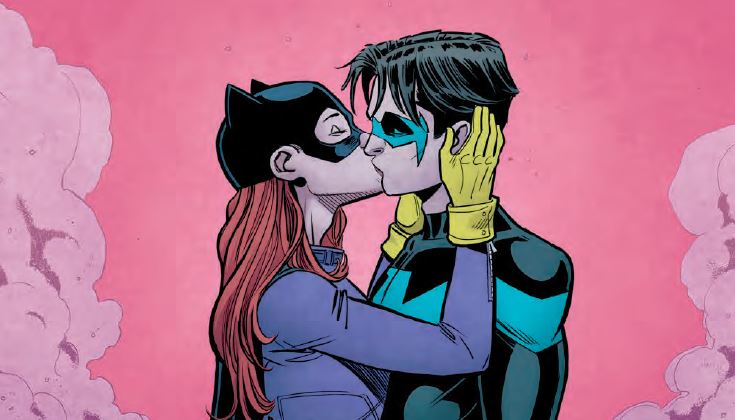 And Nightwing doesn't hold back either:
Although it's just a tease, both Nightwing and Larson deciding that this is something that can't happen right now, it's a glimpse into a potential future. For as long as I've been reading comics and watching Batman-related media, this has always been the dream couple. Some people have Olicity, I have Batgirl/Nightwing.
When I decided to read Batgirl, I was worried that it would be hard to identify with the story. Larson has been consistent with solid scripts, and Batgirl #15 is no different—except for that it may her best to date. What I love about Larson is that she can pen a story that is a one issue script just as well as a story that is a multi-issue arc. As a first time Batgirl reader, I could hop in on Larson's run and completely understand who Batgirl is while still getting bits and pieces of her origin. The last two issues have included flashbacks to her early days and I hope Larson continues to include those in her run.
Christian Wildgoose work on Batgirl was initially "different" when he took over for Rafael Albuquerque. However, after a handful of issues or so, he has grown on me. Wildgoose's style seems to fit the overall vibe of Larson's Batgirl—it looks and feels like a CW show. Beyond that feel, Wildgoose can also show some grittiness in his works, as he did with the Mad Hatter scenes the last two months.
CONCLUSION
Batgirl #15 works on all levels. Larson knows these characters and continues to pump out fantastic scripts; each one seems to get better than the last, and this issue is no exception. The pacing is enhanced with the flashback scenes—this has been a favorite style of mine recently and it works really well for Batgirl. Including the big moment that the cover teases (spoilers?) checks off everything I want to see in a Larson scripted Batgirl. I love that the cliffhanger this week ended with a flashback scene instead of the present day—Larson is giving both stories equal importance.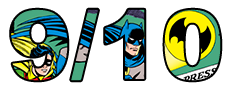 Images courtesy of DC Entertainment