"The First Ally," Part 1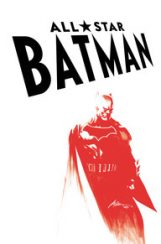 Writer: Scott Snyder
Artist: Rafael Albuquerque
(Minor spoilers ahead)
After an arc that left me unsatisfied, Scott Snyder delivers one of the best Batman issues I've read in a long time this month in All Star Batman #10. There is so much goodness going on in these 30 pages, and none of it feels stuffed, complicated or untrue to characters.
Batman is on the road again, this time ending up in Miami. Except he's not alone, and has brought Alfred… along with his childhood friend Thomas Elliot, aka Hush. Gunfire ensues and we learn about a major weapon that is on the move. To intercept it, Bruce must become a pirate. He and Alfred hit the water to an island, where Bruce is outnumbered but makes it out alive (classic Batman). By the time he makes his way to his lead, all that remains is a body with a disturbing sign. Intercut between this story is a flashback tale of London police chasing after a masked man who has left behind a specific symbol. Let's just say our narration leads us to believe it is one person, and the reveal at the end isn't who we'd expect. The connection between the two stories? The symbol.
That's the best I can summarize this issue without giving away all of the goodies involved. Snyder has delivered such a smart, fun story that coasts through every panel of every page. This is the beginning of a new arc, and enough seeds have been planted to keep me looking forward to the next few issues. What's the connection? Where does Bruce go now? Where's his cape and cowl? How does Alfred figure into all of this? Is Will Smith still singing about the city where the heat is on, all night on the beach till the break of dawn?
Perhaps my favorite moments in ASB #10 was the relationship between Bruce and Alfred. Alfred acts like a father in this issue in a way I haven't seen in recent memory. That's not a bad thing either. We fans (and Bruce) have always felt like the butler served as a stepfather in a way, and it was great to feel that connection on display throughout this issue. Loved it.
Rafael Albuquerque steps up in a major way this month too. The artist has collaborated with Snyder many times (I highly recommend their American Vampire work) and he doesn't disappoint here. His style always works with Snyder and this month, he creates a perfect blend of action, emotion and fun. A standout to me are the panels between Bruce and Alfred with the purple/pink sunset. It looks fabulous.
Albuquerque doesn't stop there, he also wrote the backup. Throughout All Star Batman, I haven't cared much for the extra story. However here, it's focused on Bruce and his travels overseas (to Russia of all places). It connects to the main story, and doesn't feel forced. I applaud the artist's story and am looking forward to see where it's going.
Conclusion
Overall, an excellent new issue for Snyder and Albuquerque. Emotion, fun, tense, action, exciting…it has it all! If you haven't been keeping up with All Star Batman, this is a perfect place to start.

Images courtesy of DC Entertainment