"Red Meat," Part 3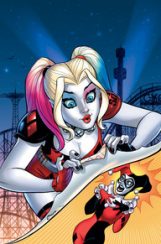 Writers: Jimmy Palmiotti, Amanda Conner, Paul Dini
Artists: John Timms, J. Bone, Bret Blevins
(Minor spoilers ahead)
Harley Quinn #19 continues the madness that is cannibals. Our antiheroine was last stuck in a dungeon of sorts with all of the missing homeless people. Obviously, she busts out and we get pages of non-stop ass kicking. That's basically the issue right there.
This title continues to be a blast. I was really surprised when #17 showed us that we were taking this crazy detour toward cannibalism. However, it's worked better than I ever could have hoped for.
Writers Amanda Conner and Jimmy Palmiotti have given us fans everything we want in a Harley Quinn book. It's fun, smart, action-packed and true to character. There's a cool subplot of the mayor being behind this cannibal holocaust that's inching toward a confrontation. I think that's the thread that's going to connect all of these issues in the end. A side note, I can't help but hear Arleen Sorkin's voice as I read through these pages. Also, we get such great fighting moments with Harley as she takes on these evil cannibals. Just awesome.
The backup story continues to be a blast as well. We knew we were in good hands once Paul Dini came aboard. What we get is a follow up to last issue's "cliffhanger," which included Batman interrupting the Joker and Harley's night of fun. Basically, what follows is more action, great commentary, and great pacing to move the story along. I don't know where the two are headed, but I'm excited to find out.
Conclusion
Great story by Palmiotti, Conner and Dini. Fantastic art by Timms, Bone and Blevins. This is one of DC's funnest books and I can't recommend it any more.

Images courtesy of DC Entertainment