"The Extremists," Part 3
Writer: Steve Orlando
Artist: Diogenes Neves
Steve Orlando continues to shape the new JLA through their initial encounter with The Extremists in Justice League of America #3.
Lord Havok continues his reign of Kravia and works to form alliances with other countries in the region. Havok appeals to an "Allied Kravia" from his home world and appeals to desires for safety and security in their current world. Of course, his brand of international diplomacy comes with the threat of destruction for failure to comply. Orlando introduces readers to a swelling, underground rebellion of Kravians willing to fight for their freedom.
Rather than typical super heroics, the Justice League instead seeks to come alongside the rebels in their fight. Ray makes a bold statement by removing his mask, revealing his true identity to the Kravians. This builds trust with the rebels, who are understandably reluctant to trust super-powered beings. Eventually, the Kravian rebels take the Justice League's offer of assistance in an effort to stave off Lord Havok's reign.
Interestingly, Havok turns on Death Bat as punishment for her weakness at the boarder. Havok sends Brute to kill Death Bat; but Brute suffers her wrath instead. Chances are high Death Bat turns against Havok in subsequent issues.
Justice League of America #3 features the backstory of one, Dreamslayer. He seems the most contemplative of the Extremists. He's aware of his power, but fears it. Dreamslayer is committed to Lord Havok's cause, but its brutal methodology leaves him cold. He craves structure and order, but struggles with how to provide it for himself and others. In a twist, Ray seems to form a bond with Dreamslayer. It would not be surprising to see Dreamslayer changing sides soon.
Orlando pits the Kravian rebellion as a political conflict. On one hand, those with power are wilting under the pressure of Lord Havok's iron fist. On the other, those without power are standing up to Havok's brutality. The rebels are committed to fighting, but must be seen doing it — it's a political fight in the public sphere.
The art is really well done with a mixture of fine and dark lines, with water color textures, shadows and shading. The settings transport readers to the locations. They are hauntingly beautiful. Each panel contains intricately detailed images. I enjoyed the action and angles the artist chose to depict the characters.
Conclusion
Justice League of America #3 was truly enjoyable. The writing was solid and the art, exquisite. Lord Havok is portrayed as a more politically-minded villain. He threatens to wield his considerable power, but leverages it to gain political allies. Each Extremists is locked up with their Justice League counterpart. Some fight valiantly; others seem swayed from Havok's ideology. The action and intrigue heat up as the story arch reaches its zenith. Dreamslayer is a very intriguing character I look forward to seeing again. The story is progressing well, but it remains to be seen which Extremists turns on Havok and how the League is being shaped by this initial encounter.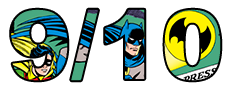 Images courtesy of DC Entertainment.