"Batman: White Knight Presents: Generation Joker" – Book Two
Writers: Katana Collins, Clayton McCormack, and Sean Murphy
Artist: Mirka Andolfo
Color Artist: Alejandro Sánchez
Letterer: DC Hopkins
Review by James Attias
Batman: White Knight Presents: Generation Joker #2 delivers another wild ride for the Napier kids. It's like Adventures in (Hologram) Babysitting meets Escape from New York.
Let's jump in!
Ghost Clown in the Machine
After the creepy ending to book one, we're informed that a creepy man who had his hand up a wooden dummy for over 20 years, has a daughter who has inherited said dummy and his/her father's mad tendencies. The new Ventriloquist is here and she's after second generation blood.
I think we all knew when this series started that an adventure featuring two children driving a Batmobile around Gotham, trying to connect with their dead, psychotic, murderous father, whilst being guided by an AI copy of him in hologram form  wasn't going to go smoothly. (Nothing I've just said was an exaggeration).
Gotham, past, present and future (present)… has it ever been a nice city? Maybe there were a few weeks before Thomas and Martha bit the bullet that it seemed like a livable area? No, not really. It seems to have always been rampant with gang violence, murder, costumed heroes, and villains a-plenty. Well, according to this book, that trend of Gotham having no chance of ever being a safe place to walk to the store for a carton of milk continues. So, we follow Jacky and Bryce, who are on an adventure to discover who their father was before his AI form burns out. In this issue, this now long dead man is taking them on a tour of his old haunts.
His Name is Agent
Having broken the rules and flown the coop with a Batmobile, the kids are being pursued by a colorful gang: Agents Diana Prince and John Stewart. I'm still getting used to the agent part, but I'll hold my judgment for now. Harleen Quinzel, the kids' mother, is on a mallet swinging journey to get them back, picking up both helpful and unhelpful passengers, like Poison Ivy and Neo-Joker, along her way to their inevitably bumpy reunion.
Almost done… *Exhausted panting continues*
As well as Old Man Bruce, who isn't going to sit around and grumble. No, he's going to go out, try to help and grumble. Finally; every single gang, woman, and child who ever wanted Joker dead or had their life ruined by him, is now after these kids. Did I miss anyone? It's safe to say that there are many people at work here. Yet, the two untrained minors have evaded all of them thus far. Should the book really be called Generation Joker #2, or Everyone Everywhere After Them All At Once?
Death Is Only The Beginning 
In what seems to be a huge plot point, that's dangled in front of us with nothing more than a tease, it appears that this story's evolving into a "How can we revive our dead dad?" As we all know, no one stays dead in comics (Except Uncle Ben and the real Gwen Stacey… sorry, Spidey). Would these naïve children really risk bringing back the most horrific killer in comic book history, just to have some quality time with the dad they never knew? Again, this is just a feeling I'm getting two issues into the series, we may not get to see that. Sean Murphy's stories change direction like a Batmobile on autopilot, so stay tuned folks!
The art was good again, I feel the usually instantly recognizable characters are starting to look so different that they felt the need to add name panels for each one, or a hammy piece of dialogue like, "You bet, or my name isn't Bruce Wayne" (written to avoid a spoiler Bruce didn't say that). I also get the feeling, from which characters are being introduced, that Sean Murphy still hasn't read many comic books, he's just gone back and watched more animated DC shows. I mean I love the shows too, but this is a big deal comic. Some characters mean a lot to us, please don't treat them as if they never existed.
Conclusion
Batman White Knight Presents Generation Joker #2 sets a very chaotic tone for this series. As usual, I'm hooked and can't wait for issue three!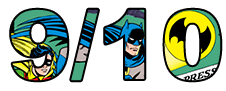 Images Courtesy of DC Entertainment