"The Winds of War"
Writer: Tom Taylor 
Artist: Yasmine Putri
Color Artist: Arif Prianto
Letterer: Wes Abbot
Review by Sharna Jahangir
Warning: there are minor spoilers in this review
The story is nearing its end and we receive even more surprises with Dark Knights of Steel #11. Yes, we get even more twists, which personally after the 10th issue, I didn't think they could top. This series keeps on giving and giving. Alternate versions of DC favorites such as Amanda Waller and Poison Ivy stay true to the strengths and morals of the original characters and their traits, even in this medieval setting
Tom Taylor's done a great job of translating the roles well into this Universe. For example, Amanda Waller excellently maneuvers these super beings, even though she has no powers just her huge intelligence, which outshines them all. Bruce's arc is progressing significantly, and he's shown great character development. With the series reaching its conclusion, we can see how he really is the Dark Knight of Steel. The characters throughout this saga have suffered great pain, so I'm deeply interested in seeing where their journey will take them, as they come closer to defeating the enemy.
The Story
The beginning starts with a touching, heartfelt moment. We come to see both Bruce's humanity and his wisdom. This was a big change from the anger and confusion he carried at the beginning. From discovering the secret of his birth, to truly feeling that he's not alone and can make his identity what he chooses it to be.
I love the connection between Kal and Bruce, as during the series, and the tricks of the doppelgangers making Bruce lose faith in someone he thought of as a brother, to make that connection whole again, once Kal affirmed his care and sincere sense of protection for him. The arc of Bruce coming to terms with his power is brilliantly written. I was surprised, as so much of a story was placed into just a few pages. It gives me great hope for the conclusion.
The spotlight on other characters is also brilliant! I've talked about Amanda Waller, but Harley and Constantine are amazing supporting characters in this issue and I hope they'll shine in the final chapter, as they've been doing a great job of taking care of things behind the scenes.
The setup with the doppelgangers is genius. They planned to have Kal and Bruce battle, but now Wonder Woman's set up to be part of the final encounter. She's suffering a great deal.
The Art
I cannot get over the art by Yasmine Putri and colors by Arif Prianto, I would love it all as posters in my house. I'd frame it and light it up. If anyone were to make statues or figures based on the team's artwork, I would collect them in a heartbeat. The details of the colors, from the contouring, and highlights on the face and nose of each character is beautiful and soft. They truly capture the emotion and grief in their eyes. Not to mention the tones when there are scenes of hope or scenes of despair. This entire series has a dynamic creative team, that I hope goes on to continue to work together.
The cover art for this series has also been a real highlight, although the one thing I would criticize with this issue is that there isn't an iconic moment of art in it. I would argue the sentimental moment between Kal and Bruce was very sweetly done though. I hope the final instalment gives us some unforgettable scenes, like the first issue did with Bruce's eyes. That's a moment from this series, I will never forget.
Conclusion
It'll be sad to see this series end. I hope there will be more callbacks to this universe, and I'm looking forward to the final battle. Dark Knights of Steel #11 was sincerely a fun and enticing issue to read, and I'm happy I've added it to my collection. As an avid Superman and Batman fan, this is one sweet read.
One last issue to go! I'll miss this title.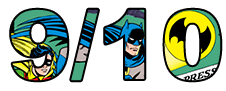 Images Courtesy of DC Entertainment