"Dusk To Dawn" and "The Plans Below"
Writer: Chip Zdarsky
Artists: Belen Ortega & Jorge Corona
Color Artists: Tomeu Morey & Ivan Plascencia
Letterer: Clayton Cowles
Review by Max Byrne
After the multiversal excesses of the previous issue, Batman #136 (901) brings into focus the terrifying toll taken on the Caped Crusader, mentally and physically. Following the incredible story from Batman #900 (135) with more bombast would have been a less than shrewd move, so huge credit must go to Chip Zdarsky for avoiding competing with himself.
What we get this month is a highly nuanced take on the state of the Dark Knight. Physically maimed and mentally broken, the fallout over the coming months is going to be fascinating reading, to say the least.
The dichotomy of Bruce Wayne/Batman is a recurring theme here, as the mantra:
Bruce is hurt, Bruce is lost.. but Batman isn't
is repeated on more than one occasion.
Despite being in a terrible state, Batman must endure and keep pushing forward. It never ends for him. No matter his personal obstacles, the World's Greatest Detective must be out there, night after night, to defend his city from evil.
The usage of Batman's interior monologue is a perfect narrative tool, as we see the difference between the outward projection of strength and dominance juxtaposed with his unraveling mental state. The previously buried personality of Zur-En-Arrh is coming to the surface at a rapid speed once again, and the sense of impending doom is tangible. We, as readers, really do get a front-row seat for the struggle for dominance between Zur and the "normal" personality of Bruce Wayne. Whilst he's (barely) keeping a lid on it for now, it's a matter of when, not if, things erupt. The shocking final page of the issue certainly points towards this.
Belen Ortega's artwork is a real feast for the eyes in this issue. Yes, her panels contain hard-hitting action on a high level, but where she truly excels is with the more intimate moments. In particular, she expertly depicts something that we don't often see in Batman, fear and confusion. The man who is always in control is losing the plot and Ortega really drills into that with facial expressions that are highly expressive and provide a window into the man's turmoil.
In addition to his personal issues, it wouldn't be an issue of Batman without an adversary or two to deal with. This time the opposition's provided by the offspring of Oswald Cobblepot in the main strip. Taking over from their deceased (or not) father, the apple has clearly not fallen far from the tree, based on this taste of Addison and Aiden.
These two truly deliver a potent mix of brains and brawn. They feel like they're going to be worthy foes for the Dark Knight, moving forward as fresh faces in the pantheon of Gotham villains. I certainly look forward to seeing how their dynamic evolves.
The backup tale looks back at Bruce's past and gives us an adventure in the Batcave, featuring Alfred and Batman on the trail of the Riddler. The art by Jorge Corona is cartoony, but fun, and Zdarsky's writing hints at what our hero will face in his (not too distant) future. Remember my earlier comments about the personalities vying for supremacy? Well, this bonus tale certainly delves deeper into that symbiotic relationship.
Conclusion
Batman #136 is a nice transitional issue bridging one epic arc with a bold new one. It absorbs all the events of the previous saga and forges an exciting new path. Where the endgame takes us remains to be seen, but one thing is for certain, it's going to be essential reading.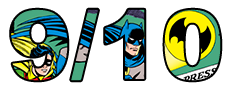 Images Courtesy of DC Entertainment