Sometimes fan creativity just blows our minds. We've seen so many great projects created by people, just like you and me, who have a love and passion for comics. Now, Lumis Entertainment are creating Batman Beyond: Year One, and some of the graphics we've seen are simply stellar!
Check out the latest teaser trailer:
The Kickstarter project is still going, and all the team needs is some help from Batman fans… like YOU!
Here's the lowdown from Writer/Director, Michael Yu:
"Batman Beyond: Year One is a live action adaptation and fan proof of concept short film based on the Batman Beyond show and comics of the same name. The goal is to bring this beloved character to the screen in a modern and captivating way that will hype fans and newcomers into wanting to see more.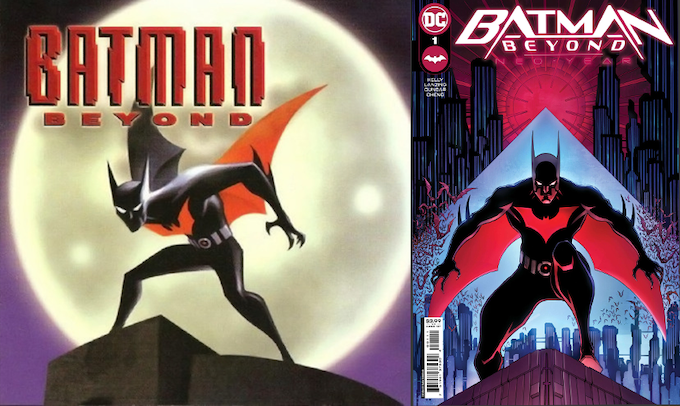 From the moment the animated series first released in 1999, Terry McGinnis and the futuristic world of Neo Gotham City became an instant favorite among Batman fans. I have been wanting to see a live action adaptation of this character ever since I was a child, and I know that I'm not the only one. Fans have been begging for a screen adaptation for years, and now's the perfect time to show what that can look like at the height of superhero media.
In recent years, both DC and Marvel have been expanding horizons by introducing the idea of the multiverse and alternate timelines within their franchises. This opens up the perfect opportunity to introduce a completely new side of Batman that general audiences have not seen before. There's a fatigue growing for campy and lighthearted superhero films – the gothic world of Neo Gotham will give audiences a much needed change of pace and tone that will be thrilling and engaging to watch.
The year is 2040. It's been years since Batman's disappearance and Gotham has rebuilt itself as a city of the future, now known as Neo Gotham City. It's booming with neon lights, technology of tomorrow and brand-new villains running the streets in the absence of the caped crusader.
That is, until a young Terry McGinnis discovers an elderly Bruce Wayne's identity as the Batman and takes it upon himself to take the mantle. Our story follows Terry several months after becoming Batman. While he's received some training, he's still a fairly new crime fighter.
A crime organization known as the Royal Flush Gang, longtime enemies of Bruce, has recently resurfaced in Gotham with a new family in charge. Join us as we watch Terry's journey continue to unfold.
There's no doubt that the world of Neo Gotham is an ambitious challenge to bring to life. In order to do justice to the characters and location, we'll be utilizing the latest in visual effects combined with production design.
Our team specializes in post-production and VFX, which will be vital to building out the Gotham skyline and city as convincing backdrops for both audiences and our actors and crew on set to visualize. As a short film, we'll be strategic in when to show the outside world with only a few small but impactful moments in exterior scenes.
The first question fans will ask is: who's playing Terry and Bruce? All we can say for now is that we are very fortunate in our casting to have the perfect actors lend their talent for these roles. It's a surprise that we want to reveal later on, but they are fellow fans and very passionate in delivering the best they can for these characters."
Are you excited for Batman Beyond: Year One? If so, head to the Kickstarter page and show your support!
Images and Video Content May Be Subject To Copyright