"The Bat-Man of Gotham" – Part Four
Writer: Chip Zdarsky
Artists: Mike Hawthorne & Miguel Medonça
Color Artists: Tomeu Morey & Roman Stevens
Letterer: Clayton Cowles
Review by Max Byrne
Batman #134 is an extremely packed issue and contains more action than you could hope to imagine. It's no mere slugfest though, as Chip Zdarsky manages to accentuate the spandex smackdown with weighty, dramatic exchanges that really help build this arc to one hell of a crescendo.
After the more cerebral, measure pace of the previous issue, this one sees the handbrake well and truly disabled, as Batman runs a gauntlet of illustrious foes in his bid to stop Darwin Halliday (the defacto Joker of this alternate reality) from unleashing his deadly gas on the city.
This is the catalyst for a face-off with an alternate Superman that has to be seen to be believed. I'm not totally sure whether Zdarsky's trying to inject humor into the proceedings or something else altogether, but rest assured the confrontation is incredibly unique and will live long in the memory!
The real meat on the bone here is the brutal battle between Batman and Ghost-Maker. Best of frenemies in the main DC continuity, this meeting of the two warriors is a heady mix of violence and liberal bloodshed, but interspersed with the interior monologue of the caped crusader narrating the rationale behind every attack and counterattack he makes. I love this approach as it perfectly highlights what makes Batman such a formidable combatant. His physical prowess is perfectly complimented by his genius intellect and ability to work out an opponent's weaknesses.
Zdarsky's grasp of Batman's inner voice is flawless. It feels authentic and true to the essence of the character. When he throws it into the mix within the pages of this issue it just works. He gets Batman and his personality so well, that one cannot help but feel that the character is in very safe hands during his stewardship.
No spoilers here, but the thrilling, tense conclusion to the aforementioned brawl is as shocking as they come. The state in which our titular character is left is one that I believe we have never seen for him before and is something that is going to be a major issue for Batman moving forward, subject to any silly retcons or do-overs. Robbing Batman of something so pivotal, so essential is a bold choice indeed. I can't wait to see how the ramifications of this play out over the coming weeks and months.
If cliffhangers are your bag, then you will be well served here. Aside from the compromised state of Batman, the issue ends with an extra helping of insurmountable odds, to say the very least. The deck's truly loaded against the Dark Knight, but there might just be help on the way, making that trip across realities…
Conclusion
Batman #134 is a wild ride with a generous helping of shocks thrown into the mix. As this arc begins to reach the home straight, the stakes have never been higher. I wish the wait for issue #135 wasn't as long as a month, but all good things come to those who can (barely) wait.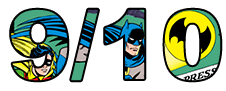 Images Courtesy of DC Entertainment