Writer: G. Willow Wilson
Artist: Marcio Takara
Color Artist: Arif Prianto
Letterer: Hassan Otsmane-Elhaou
Review by Fay Clark
The excitement is palpable. From the cover of Poison Ivy #9, I had a lot of expectations, so let's see if the book itself lives up to them!
We last left Ivy with Janet from HR, and I couldn't be happier that my girl has someone to turn to. She's been through a lot recently, so a little supportive friendship is definitely needed.
Crazy in Love
Everything about these characters is crazy. Getting to see it all jump out at you is just one of the highlights of the issue. Pamela deserves some well earned R+R, as Wilson's really been putting Ivy through her paces! The green calling her and reuniting Ivy with her mentor/creator followed by the sudden resurgence of her powers, to help her keep deadly spores at bay. Now we have corporate espionage, with a crazy plant lady planning who knows what. I got tired just typing that, never mind having to live through it!
Ivy's been doing her best to keep her head up high and G. Willow Wilson seems to have just the person to inject a little more pep in her step. Knowing how amazingly Wilson's been writing Ivy, I had no qualms with her writing one of my other favorite DC ladies.
Everything about Poison Ivy #9 is healing and calming. We all need a little romance in our lives sometimes, and this came at the exact right time. Ivy needed to hear something good and positive, and who better than Harley is there to do so? A therapist who knows her every thought and loves Ivy enough to help her see what's right for her.
Bloomin' Lovely
The artistic stylings of Marcio Takara and Arif Prianto are back. I hope working together has given these two a chance to cultivate their friendship and grow accustomed to each other's styles.
I loved the difference in characters and how they moved through the pages. Ivy's very flowy and graceful, whereas Harley's all spasmodic movements, all limbs. Being able to show the characters differences, yet show how well they compliment each other is a great skill. Takara has such attention to detail. All the little things on the clothes or in the background add so much more depth to the imagery. Not to mention Arif Prianto' gorgeous color work! I love seeing the tonal shift from focusing solely on Pam's greens to adding in more color to match Harley.
Conclusion
Poison Ivy deserves a break and I'm glad Wilson's given her a mini vacation. I loved seeing my girls back together and really hope the nice wholesome, heart warming plot keeps going. Just let my girls be happy and together! I can't wait to keep going on this journey with Ivy, and you definitely won't want to miss out!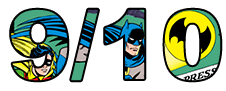 Images Courtesy of DC Entertainment