"Muscle Out" – Part Three
Writers: Alan Burnett and Paul Dini
Artist: Jordan Gibson
Color Artist: Monica Kubina
Letterer: Josh Reed
Review by James Attias
The Dark Knight Returns to his animated roots with Batman: The Adventures Continue #3.1 This issue is a smashing start to the new season, let's jump in!
The Adventures Continue… Right Away
This issue picks up pretty close to where we left off season 2, with 'The Muscle' in Stonegate prison, serving time for being a hired assassin. When you're a gun for hire in Gotham, none of your previous employers are going to write you a reference.
The action starts almost immediately, with assassination attempts on The Muscle, also known as Mr. Delgado, flying at him from the start. Luckily for this ex-gun for hire, Batman is on the scene to save him from a brush with Killer Croc.
Animated Family Matters
In this very well drawn, wonderfully written issue, we're also introduced to some of Gotham's crime lords, old and new. Including Rupert Thorne, Oswald Cobblepot, Black Mask and finally a new face that I was very excited to meet. The daughter of Sal "The Wheezer" Valestra, Esther. For those of you who love the animated movie (and best movie ever made ever) Batman: Mask of The Phantasm introduced us to Sal, and in this issue we finally get to meet his daughter, who's jumping into the family business in a big way. I can't wait to see where she pops up next.
As I briefly touched on already, the art in this issue was perfect, I can't fault it amazing blend of BTAS, BTNA and Justice League, and the writing just filled me with so much joy and excitement. It's wonderful to be back in this world again!
Conclusion
This first issue of the new season was a blast! Great art, great story and if you like Batman: The Animated Series, Batman: Mask of The Phantasm and/or if you just like comics, add this book to your reading list.
Batman: The Adventures Continue #3.1 is a cartoon lover's type of Comic book!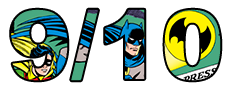 Review Written In Loving Memory of Kevin Conroy. Always Our Batman.
Images Courtesy of DC Entertainment