"Batman: Shadow War" – Collected Edition
Writers: Joshua Williamson, Nadia Shammas, Ed Brisson & Stephanie Phillips
Artists: Viktor Bogdanovic, Daniel Henriques, Howard Porter, Trevor Hairsine, Stephen Segovia, Mike Henderson, Howard Porter, Otto Schmidt, Sweeney Boo, Mike Bowen, Ann Maulina, Roger Cruz, Norm Rapmund, Paolo Pantalena
Color Artists: Mike Spicer, Tomeu Morey, Rain Beredo, Hi-Fi, Otto Schmidt, Sweeney Boo & Mark Morales, Luis Guerrero, Romulo Fajardo Jr.
Letterers: Troy Peteri, Clayton Cowles, Willie Schubert, Steve Wands, Becca Carey, AndWorld Design
Review by Max Byrne
Batman: Shadow War collects the complete saga, as it appeared in Batman #122-123, Robin #13-14, Deathstroke Inc. #8-9, Shadow War: Alpha #1, Shadow War: Omega #1, and Shadow War Zone #1. We also get a host of variant covers, sketches and designs.
The collision course path that Joshua Williamson has crafted for "Shadow War" is masterfully handled. Batman, Deathstroke, Talia al Ghul, and Damian (Robin) Wayne find themselves locked into a conflict that will have long-standing ramifications moving forward.
This book gives fans deceit, misdirection, and a truly shocking death of a legendary DC Comics character. So, reviewing this book without divulging MAJOR spoilers is a tricky task indeed. All I can say is that, as the tale begins, Ra's al Ghul appears to have developed an altruistic streak, reconciling his eco-terrorist past with a vision for the world that appears to be beneficial to all.
Suffice to say, the best-laid plans are never destined to end well, and events here are brought to an explosive crescendo that once witnessed, will see all readers jaws collectively hit the floor in amazement. The (presumed) demise of such a big player is done in a way that leaves little room for ambiguity.
Williamson pulls off an excellent bait and switch. Whilst we think the killer's identity has been explicitly revealed, the rug is immediately pulled out from under us and everything we've been led to believe is flipped on its head. The die is cast, and the Shadow War has begun! Pitting Deathstroke Inc. against The League of Shadows is a great heel vs heel faction match-up, and the collateral damage ensues is mind-blowing.
The familial ties that bind us are a common theme too, as Williamson examines the human beings behind the spandex-clad superheroes. Fathers and their offspring treading the path of reconciliation is a recurring motif, with the Wayne and al Ghul families strengthening those bonds in the face of the surrounding chaos that blows up around them.
The tender moments between Bruce and Damian are a welcome pause in the proceedings, as the weight of words left unsaid weighs very heavy on the Wayne men. For all his absolute authority as a costumed vigilante, Bruce's failings as a father are made all too apparent.
With so many different moving parts to accommodate, there was a real danger that this arc could've ended up being extremely overcrowded, but every writer manages to give each faction enough pages to do them justice, and never at the expense of pushing the overall narrative along.
We certainly get equal time with Batman, Deathstroke, Robin, and the wonderfully violent ballet of the aforementioned clash between the two rival heel factions. Yes, this is mainly a Batman story, but all the writers serve the story first rather than solely pushing on the journey of the titular character.
Ever the detective, Batman's tries to piece together the identity of the true perpetrator here. At first, all roads lead to Talia, given her track record of duplicity over many years. The confrontation between the two characters is beautifully written, as the history between these enemies/lovers/co-parents weighs very heavy indeed.
The artwork in Batman: Shadow War is a joy to behold. Howard Porter's work has always been highly appealing to me, and he certainly brings his very best work to the table here. The level of detail, depth, and character in his panels is mind-blowing. A prime example of this is a wonderful double splash page that depicts the clash between the opposing villainous forces. It's an amazing undertaking; the chaos, violence, brutality, and skill on show are so eye-catching that it simply demands the readers' attention.
The art on the Robin and Deathstroke chapters of the book is also spectacular. The different art styles mesh well and remain fairly consistent. This is impressive as the book collects chapters from three separate titles and three specials, written and drawn by several creative teams, a couple of whom deserve special mention.
I thoroughly enjoyed reading Black Canary's story, as she comes face to face with her former protege, Angel Breaker. This is a highly enjoyable romp, packed with non-stop action.
To see these two deadly Femmes Fatale in action is a testament to the artistic skills of Otto Schmidt. His panels are full of activity and demand any reader's attention, conveying a genuine sense of peril and violence. I like Williamson's writing here too, as the sense of history versus obligation weighs heavily on the proceedings. There's plenty more mileage in this relationship and I look forward to seeing where it goes next.
The art of Sweeney Boo is a genuine joy to look at. It resembles the kind of art suited to a high-end children's book, in the best possible way. Full of expression, these are pages that are dreamlike and absorbing. Shammas' story is an absorbing one of family ties and multi-generational strife that certainly sets up intriguing events for Talia moving forward.
Conclusion
In my humble opinion, Batman: Shadow War is a prime example of top-tier storytelling, and DC Comics at their absolute finest. A heady mixture of action, shocks, revelations, and most importantly, character development. The creative teams have all crafted an engaging, enthralling, and explosive story that's kept its narrative tight and the stakes high. Bombastic and brash, yet also surprisingly intimate, it's a tale that I think I'll be going back to for further reading in the years to come.
This is a must-have book, get a copy by any means necessary!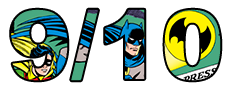 Images Courtesy of DC Entertainment, review copy courtesy of Penguin Random House
Hardcover | $39.99
Published by DC Comics
272 Pages | 6-5/8 x 10-3/16
ISBN 9781779517975