DC Comics is expanding the range of its NFT collection at nft.dcuniverse.com to include comics that are the holy grail for any collector, even taking into account factors such as the physical condition of the issue; the grading – and its rarity. The new range is called DC Collectible Comics (DC3) and the first comic to be released is 1939's Superman #1
For those not in the know (or in need of a reminder – it can get challenging in the digital world!), NFT stands for non-fungible token. Essentially, it's a unit of data stored on a digital ledger, called a blockchain, which makes a digital asset unique. It's a way for a creator to sell shares in their work and for those shareholders to potentially see growth in their investment, should that particular creator, or the work become important/scarce/collectible/etc.
In March 2021 an 87-year-old artist named Jose Delbo, who had worked on Wonder Woman in the late 1970s, managed to sell NFTs relating to Wonder Woman without DC's involvement. The tricky area for NFTs is that value is attached to the authenticity of the work.
When DC themselves entered the game the very next month, they came with a massive seal of authenticity and hit the market with The Bat Cowl Collection. What made them unique is that they were able to offer perks into the deal in the form of a buyer's community. This membership includes access to puzzles, behind-the-scenes looks at Batman-related content, early access to DC comic events (as well as future NFT presales), plus the chance to get involved to have a say in the writing of an exclusive comic series Batman: Legacy of the Cowl.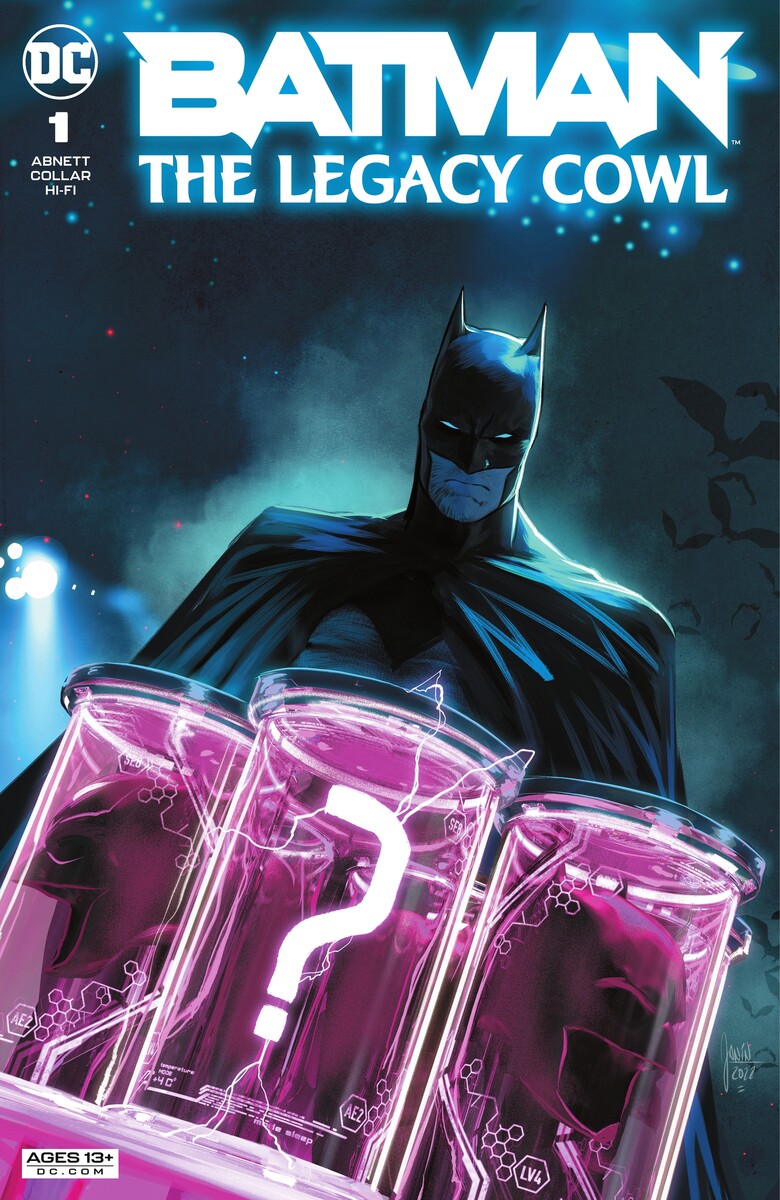 In June 2021 DC announced their own standalone NFT marketplace with their partner Palm NFT Studios and in October launched their first official NFT collections. These were based on Batman, Superman, Green Lantern, Wonder Woman, and Harley Quinn. Buyers had the opportunity to collect three covers for each character in three levels of rarity. The Wonder Woman collection included a Common cover (1987's Wonder Woman #1 by George Pérez), Rare cover (2021's Nubia and the Amazons #1 by Alitha Martinez), and/or Legendary cover (Yara Flor on 2021's Future State: Wonder Woman #1 by Jenny Frison).
Now, with the DC Collectible Comics expansion and the release of Superman #1, DC takes things to the next level by featuring rare covers and grading. The planned weekly drop will see two comics released, one Legacy and one Modern, which feature variant covers of different rarities. The Legacy issues will come in different categories listed as Common, Uncommon, Rare, Epic, or Legendary which correlate to the wear and tear that appears on the photo of the comic.
Superman #1 by Superman creators Jerry Siegel and Joe Shuster is, of course, special not just because of its age – it marked the character's evolution from Action Comics into a self-titled second comic, it was the first self-titled superhero comic as well as being the only character at the time to have two regular comics of their adventures.
In contrast to the 200,000 NFT releases for The Bat Cowl Collection, which was higher than the industry standard of 10,000 to 20,000, Superman #1 will be limited to 3,000 NFT's making it tantalizingly desirable as an "object" of scarcity as befitting such a rare comic. It's available on the blockchain right now, for $9.99.
Go over to nft.dcuniverse.com and you'll see the growth of something new. Along with the NFT packs for Gotham City District Knightwatch and Harley Quinn, and now the release of the DC Collectible Comics (DC3) initiative, DC continues to merge the notions of collecting comics, investing, and being part of an exclusive community with rewarding benefits.
For more information, check out the full DC statement:
DC COLLECTIBLE COMICS DROP EVERY WEEK

Superman #1 Will Be The First Comic
from DC Available to Purchase as a
Digital Collectible Comic

DC to Drop Legacy and Modern Comics on a Weekly Basis.

DC has announced the next step in its digital expansion, DC Collectible Comics (DC3). The weekly drops, which can be bought and sold (subject to terms and conditions) on the fan marketplace at nft.dcuniverse.com, will feature rare variant covers and grading that physical comic book collectors have enjoyed over the years. Superman #1 will be the first DC Collectible Comic sold on the blockchain on October 27 for $9.99.

DC Collectible Comics will be released from two categories, Legacy and Modern. Legacy comics include releases of classic comic issues that may have been out of print for years while Modern comics will highlight a selection of recent releases from DC's extensive line-up of comics.

"We want to take the physical, real-world experience of collecting comics that so many of our readers have loved over the years and expand that into a new digital community," said DC Senior Vice President and General Manager Anne DePies. "We want to build that community aspect that everyone has been so proud to be a part of, in our digital ecosystem to make comic collecting more available and accessible than ever before."

One of the most highly prized comic books in all of collecting is Superman #1 by Jerry Siegel and Joe Shuster. DC Collectible Comics' first drop will give fans the opportunity to digitally collect one of the most sought-after comics and will be limited to 3,000 minted editions.

Each DC Collectible Comic will be randomly assigned one of five levels of rarity at the time of purchase: Common, Uncommon, Rare, Epic or Legendary. If purchasing from the Legacy collection, the rarity levels correlate to the digital wear that will appear on the comic book. A Common graded book may look faded and aged while the Legendary comic features a more pristine look. DC Collectible Comics from the Modern collection will feature different variant covers for each level of rarity.

"It's been incredibly rewarding and fun to watch the level of engagement and enthusiasm within the DC NFT community," said Josh Hackbarth, Head of NFT Commercial Development, Warner Bros. "From our premium Bat Cowls to our Gotham City District Knightwatch to our most recent Harley Quinn drop, we're constantly looking for ways to embrace this new technology and provide fans with a truly unique experience. We're proud of the community that we have built so far and are excited to see it grow even further with the addition of DC3 to the Palm platform."

Batman: The Legacy Cowl #1, one of the newest DC comics created with the help of the DC Bat Cowl community, will be released today exclusively to Bat Cowl NFT holders. Batman: The Legacy Cowl #1 is the STORY OF THE COWLS! Over the years, Batman has designed various 'specialist' cowls (and other Bat-kit) for specific tasks. He keeps them all secure in the Batcave, but one went missing. For the last several months, Bat Cowl holders helped shape the hows, whats, and whys of the comic through a series of votes, to help shape the story of Batman's newest mystery.

Matt Mason, Chief Content Officer of Palm NFT Studio, added, "We're beyond excited to be working with DC to bring this new collection to the platform where fans will now have the opportunity to experience these incredible comics in a newly interactive and engaging way."

Each of the DC Collectible Comics are full comics that can be read on nft.dcuniverse.com once they are in a fan's collection. Upcoming DC3 releases include Black Adam #1 by Christopher Priest & Rafa Sandoval, among others. Pricing, quantity and rarity for each DC3 drop may vary.
Images and Press Release Courtesy of DC Entertainment