"Under New Management"
Writer: Ed Brisson 
Artist: John Timms
Color Artist: Rex Lokus
Letterer: Clayton Cowles
Review by Max Byrne
Batman Annual 2022 is an action-packed tale featuring Batman Incorporated at the forefront, with some fresh leadership at the helm. Ghost-Maker has been one of the most intriguing and readable new characters of recent times, so promoting him to this prominent position is a very wise move indeed.
This allows Ed Brisson to show the versatility of his talent by incorporating a lot of humor into the proceedings. For all his ruthlessness and iron will, Ghost-Maker has a great talent for a withering put-down, delivered with sarcastic wit, which is as sharp as the character's sword.
Always ready with a pithy comeback, Brisson's take on the character is pitch perfect. As Batman has now bequeathed his friend-turned-enemy-turned-ally the leadership of Batman Incorporated, he now has a nice cast of characters to bounce off, and the future will certainly be bright for the group. Every time they are featured moving forward now, it's going to be must-read content.
The first caper for the new lineup is one full of action, as they journey to Kazbek to investigate a village that has cut all lines of communication with the wider world, following on from Lex Luthor's experimental programmes being shelved. No spoilers here, but they find is chaos incarnate, which results in fisticuffs aplenty and a strange new recruit for the team!
The art from John Timms is beyond excellent here. I'm a huge fan of his style and what he brings to this annual is superb. His action scenes pop off the page and provide eye-catching moment after moment. Characters bounce around, punches land with a real sense of impact and every gymnastic combo almost induces vertigo, such is Timms' mastery of movement. Every panel is full of detail but never feels too overcrowded. As a creative pairing, Brisson and Timms could easily be given a top DC title for an elongated spell and the results would be spectacular. Make it happen DC Comics!
Conclusion
Batman Annual 2022 is a great issue that broadens the scope of the Batman comic book universe. The new Batman Inc. lineup's now deserving of its own title, coming this Fall. If Bruce Wayne never appears in it, I don't think it will really matter, such is the strength of this cast of characters. The team is in place, the group is strong, the balance of humour and action is finely balanced and we are ready for it. It cannot come soon enough.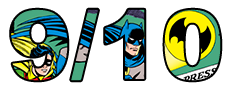 Images Courtesy of DC Entertainment