DC online staff-writer Alex Jaffe has had the amazing opportunity to interview the newest Batman writer Chip Zdarsky.  Chip is a very well-known creator who has worked with man iconic comic characters, such as Marvel's Peter Parker: The Spectacular Spider-Man, Archie Comic's Jughead, and, of course, DC's Batman. Just to name a few.
Chip has also won numerous awards and accolades for his unique insights and exploration of the characters and their relationships under his care. The writer will take over scripting duties on the Dark Knight's flagship series, Batman, beginning with issue #125, on July 5th. Jorge Jimenez will be returning to the series to provide more of his amazing art.
Batman will not be alone this time, though:
Joining the Caped Crusader as his partner in crimefighting once again will be Tim Drake, the quintessential Robin to many, with some long-deserved recognition now due. So, with this gadabout and raconteur of the sequential image about to embark on his most ambitious pursuit yet, we carved out a piece of Chip's laborious schedule for answers to some very serious and respectful questions worthy of his time.
They also managed to squeeze a preview out of him!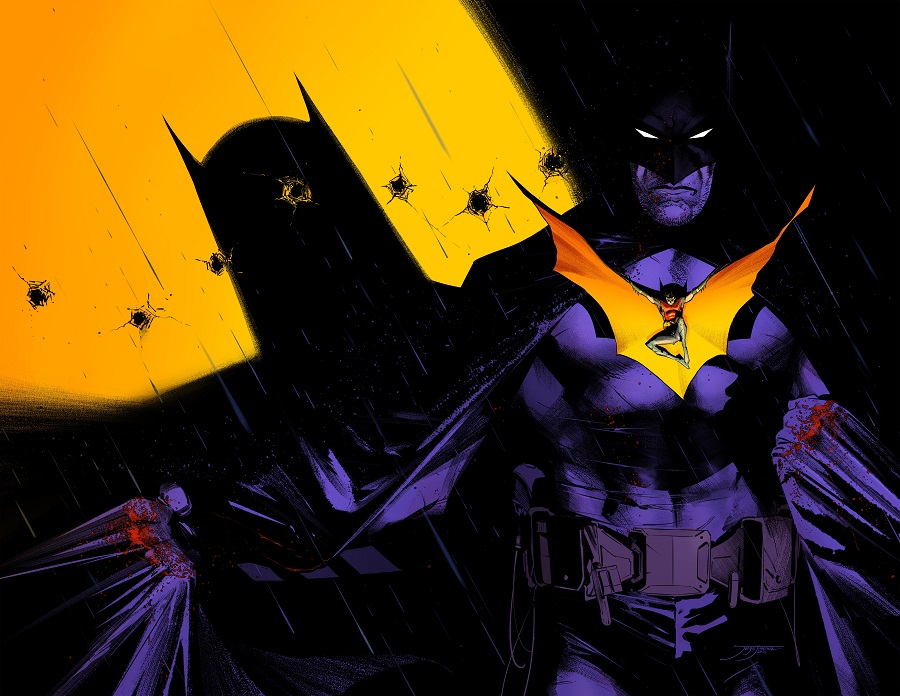 First, what gives you the right to be writing Batman and Daredevil at the same time? You think you're Frank Miller or something?
Look, if you're referring to the brief identity fraud so I could steal some of his Batman millions, then, yes, I do think I'm Frank Miller or something.
You're taking over Batman right after Joshua Williamson, who just got finished killing Batman off in "Death of the Justice League." Is, uh, is Batman dead in this book?
Wait… what?
Both your Red Hood story in Batman: Urban Legends and your current maxi-series Batman: The Knight deal with the rift between fathers and sons, whether that's Bruce and Jason or Bruce and Alfred. In your Batman series, Bruce is partnered again with Tim Drake. What's that relationship like?
It's a really fun one to write! Tim is, in my mind, the Robin who worked his butt off to be Robin. Not to say the others didn't, but it was a mission for Tim right from the start. Bruce respects his work greatly, even if he doesn't show it all the time, and he's proud of the man he's become. Tim will always be the Robin who has the most concern for Batman's mental state.
Your previous work in Jughead and Sex Criminals covered the breadth of the sexuality spectrum, providing a multitude of perspectives on queer identities. Over the past year, Tim Drake has been exploring his own sexual identity, opening up to dating boys for the first time. How much of that Tim Drake will we see in your Batman?
It'll really be reflected in his confidence, which comes with knowing yourself. For Bruce, it'll be a signpost for him that the various Bat-Family members deserve happiness beyond "the mission." Our story doesn't really slow down enough for Tim to go on dates with Bernard, but it's felt in the title for sure!
How thematically connected is Batman: The Knight to your Batman run? Will reading The Knight provide more insight into your Batman intentions?
Uh, the Sales team is looking over at me and nodding their heads furiously. Oh my god…does one of them have a gun?!
There are definitely thematic throughlines from The Knight to Batman. In The Knight, Bruce is full of youthful hubris. In Batman, that youthful hubris catches up to him. In The Knight, he's worried about failing because he doesn't know enough. In Batman, he's worried about failing because he knows enough now to see it coming.
It's actually been really nice being able to explore both time periods almost simultaneously. It's helped me get inside Bruce's head a lot more effectively. (I hope!)
Tom King's Batman run was written as one long, 100-issue examination of Batman and Catwoman's relationship. It was defined by the many original characters he introduced, providing as many new supporting and opposing cast members to Batman as possible.
What do you imagine, or hope, will be the defining characteristic of your Batman tenure?
One hundred issues of new cast members!!

I don't want to answer this because, A: I hate the lamestream media and your trick questions. And B: I really don't want to telegraph things too much. One of my big things is that I want readers to be surprised as we go along. I don't want to ruin that!
Sometimes, I confuse you with Sam Humphries. Do you ever have that problem?
We're both handsome and we both love Prince. So, yeah, I get it.

Click here for a special preview of the first chapter of Failsafe.
Source: DC Comics
Images and Press Release Courtesy of DC Entertainment