Are you a Batman fan? do you have a million dollars just laying around? if you answered yes to both of these questions, then I have some good news for you. A rare 1939 copy of Detective Comics #27, featuring the first appearance of Batman is now up for sale! The edition is being auctioned by Goldin for an estimated price of $1 million (with the current bid parked at $900,000).
Graded 6.5 with cream to off-white pages by Certified Guarantee Company (CGC). Among the scant 36 universal examples of this Golden Age comic in CGC's census reporting, this copy shares its grade with six others, and only eight are graded higher. The comic features a six-page story titled "The Case of the Chemical Syndicate." It introduces readers to a billionaire philanthropist Bruce Wayne and his alter ego, Batman. The story also introduces to the world Gotham City Police Department Commissioner Jim Gordon, who allows Wayne to accompany him to the scene of a murder after a lengthy discussion about "The Bat-Man," who has Commissioner Gordon puzzled.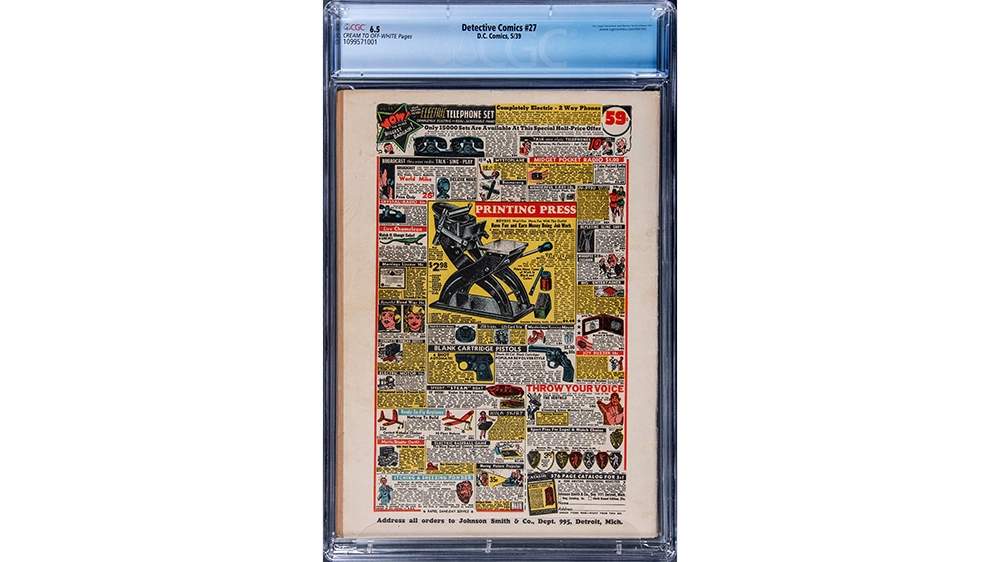 The 83-year-old book is remarkably in good condition and will be sold alongside other rare comics and original art, including a copy of Amazing Fantasy #15 (the first appearance of Spider-Man) and the original cover art to DC's Showcase #24, featuring one of the earliest appearances of Hal Jordan.
Commenting on the sale, Goldin Executive Chairman and Founder Ken Goldin said:
It's rare to have even one of these amazing books featuring the first appearances of these culturally iconic heroes in a collection, let alone all of them.

We are so honored to be able to showcase so many pillars of the comic world showcased in one sale. When you add to that the one-of-a-kind original Gil Kane Green Lantern art, this auction is going to turn a lot of heads in the hobby.
The copy is currently available for bids on Goldin's website until May 22, 2022.
Images May Be Subject to Copyright