"Final Stand"
Writer: Cavan Scott
Artists: Jose Luis, Daniel HDR and Jonas Trindade
Color Artist: Rex Lokus
Letterer: Carlos M. Mangual
Review by James Attias
Titans United #7 is finally here! The epic conclusion has arrived, featuring a team lineup inspired by the HBO Max show, we finally get to see them cut loose! An alien invasion and an army of super-powered people are all here and it's up to the titans to save the day!
The More Things Change…
The Titans of this story have certainly been on a wild ride. They've faced a meta-human Kite Man, fought assassins, and an extraterrestrial threat. In this action-packed finale, we see the team and some of their foes unite to battle a threat too great for them to take down alone.
Something I said way back when, about the TV show, was that the final episode of the series wraps up too quickly and I didn't want that for this book. Well, it started out fantastic but then there were a few issues that could have been cut down and combined, so we could add in a bit more exposition leading into a huge climactic finale. Sadly they didn't heed my inner thoughts and passing comments.
This issue doesn't have enough pages to cover everything that's happened and give readers the conclusion it deserved. The team was divided, Superboy had been brainwashed, and Starfire and Blackfire were going to kill each other! Alas, I was left wanting more.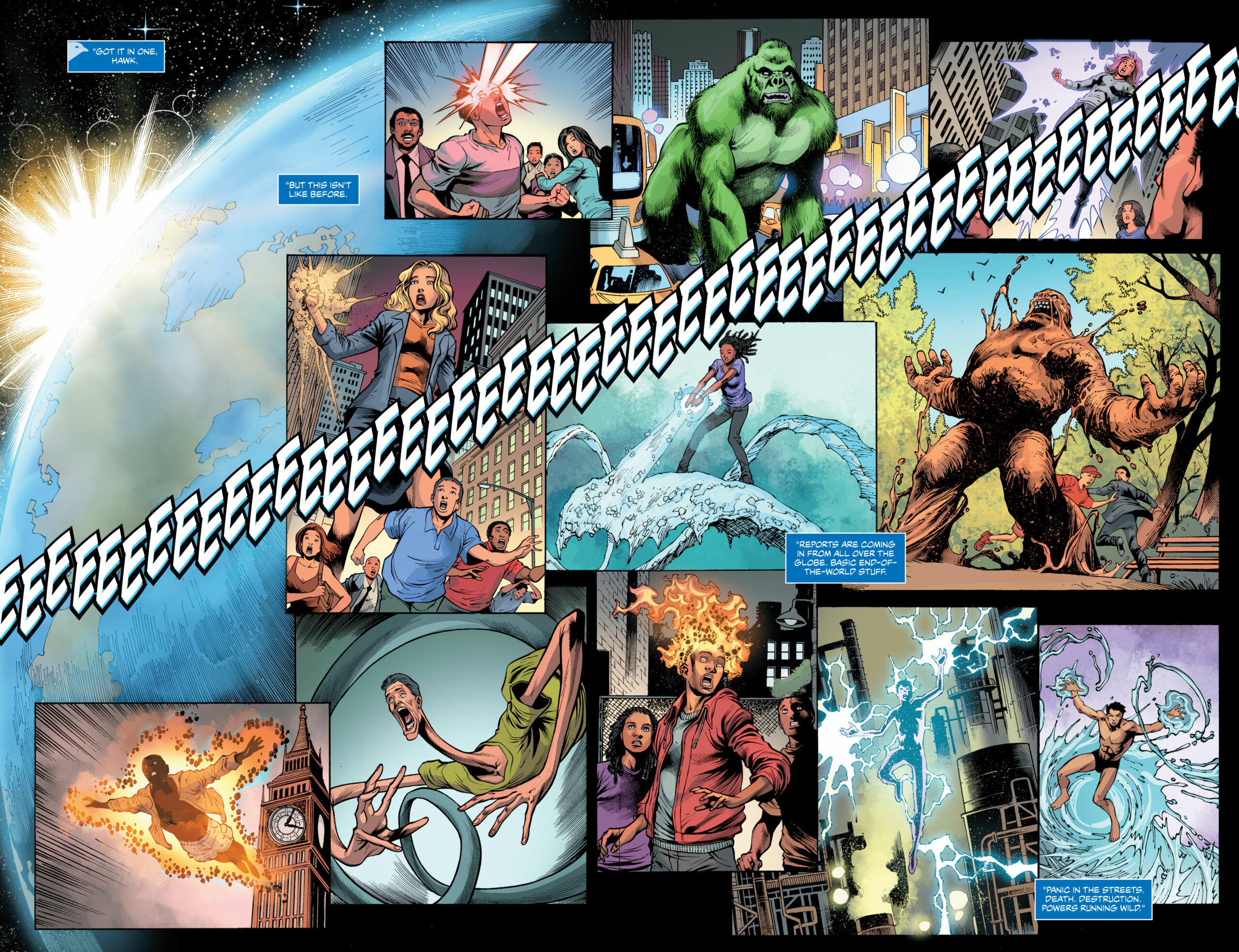 On the TV show, everyone knows we can't have the Justice League appear due to budget and studio interference, in a comic book, however, saying that there's "no time to call the Justice League" to help fight a world-ending threat Does. Not. Fly. I expect a much better reason for the Titans and a few former foes being the last hope for mankind, not just a passing comment.
The More They Stay The Same
With Season Four of Titans on HBO Max kicking off filming a few weeks ago, with villains like Brother Blood set to appear, it's likely this team will return to the comics for another bout. Keeping the comics and the TV show both at the front of a fanbase is important, but I hope that the writers and studio learn from what fans and critics have been saying. Make sure the payoff is worth the journey. Otherwise, what's the point?
Conclusion
Titans United #7 Was nice to look at, and tied up all the loose ends, but too quickly and with little to no ramifications. This miniseries had its highs and had its lows, but sadly I don't think this is a story that will linger long in people's memories.
Images Courtesy of DC Entertainment