"The Tower " Part two and "House of Gotham" – Part two
Writers: Mariko Tamaki and Matthew Rosenberg
Artists: Ivan Reis and Fernando Blanco
Color Artists: Brad Anderson and Jordie Bellaire
Letterers: Ariana Maher and Rob Leigh
Review by James Attias
Arkham Asylum, Arkham Tower; s spaces to talk about your problems… NOT. We jump back into the new mad-house and take a peek at the people who are running it in Detective Comics #1048
What Was Your Name Again?
Any grumbles I had with last week's issue like Dr. Wear's name, are all addressed this time around. We're treated this week to an undercover Kate Kane, stepping into Arkham tower 12 weeks before it's taken over. I have a feeling that the new weekly issue/in-comic, 24-week build-up to terrorist attacks will somehow coincide. Like the TV show 24, Gotham's clock is ticking in real-time… and I loooove it!
Kate Kane, undercover, getting to know the slimy Tobias Wear (now clarified to be pronounced like Bear, thank you, Mariko Tamaki). We step inside the new Arkham Tower and see that it's all smiles, hugs, iced coffees, and group therapy. I don't know about you Detectives but I smell a rat! (and who is this fake Harley Quinn?)
I adored how everyone looked in this issue, as Ivan Reis nailed the dual looks and undercover Kate Kane. Once again, the lighter, less grimy Arkham building makes me feel super uncomfortable. Maybe, just like our favorite caped crusader, I prefer Gotham in darkness.
The writing from Mariko Tamaki is, once again, on point. The suspense and mistrust that we get reading these characters is fantastic, not to mention talking about stories long passed (and not so long passed). Having the background knowledge really makes me appreciate who these people are and if you're a new reader without as much material to draw from, all is still being explained well.
Mud Monster
Our secondary story takes us back to the young boy who saw his parents murdered by The Joker, as he has been taken to Arkham to talk to the very talented Dr. Harleen Quinzel (oh dear). Part two of this story once again addressed something that I was wondering about last time. Would Bruce really leave a boy to the system without a second thought? Read on and find out.
Conclusion
Detective Comics #1048 is a cool, sexy undercover mission that keeps your attention and reads like a dream. Two weeks into our weekly run and I'm extremely impressed! Also, to all my fellow nerdy Bat-fans out there… HAPPY #1048!!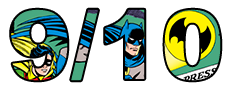 Images Courtesy of DC Entertainment