"Old And New Enemies"
Writer: Joshua Williamson & Karl Kerschl
Artists: Jorge Molina, Mikel Janín, Angel Di Benedetto & Karl Kerschl
Color Artist: Tomeu Morey & John Rauch
Letterer: Clayton Cowles & Karl Kerschl
Review by Max Byrne
Batman #119 sees our titular hero come face to face with Lex Luthor in a heavyweight clash of the A-List DC Comics titans. Whenever these two icons come face to face there's magic in the air. Yes, Luthor is traditionally a Superman villain, but Bruce and Lex certainly have their own storied history.
Always vying to be the smartest in the room, these two captains of industry are operating on the elite level when it comes to wealth, power, intelligence, and cunning. The respect/enmity that these two share is palpable, especially here, thanks to Williamson's writing.
The snappy yet measured tone that they employ when facing each other is impeccably handled. Neither one giving an inch, nor wanting to be perceived as the lesser man. In many ways, they're opposite sides of the same coin, both formed by the experiences of their past to see the world in very different ways. Both are unshakeable in their convictions and possessors of willpower that would put Hal Jordan to shame. Williamson has their personalities down.
Always the showman, Luthor's new position as the financial benefactor of Batman Incorporated is the ultimate act of one-upmanship to Bruce. If you're looking for a one-two combination, his hugely ostentatious display with a bottle of wine at dinner is Luthor asserting his financial dominance over a now (relatively) poor Bruce Wayne.
Billionaire spats aside, the other main thrust of the issue is the first meeting between Batman and Abyss. Set up in the previous issue, this is an extremely intriguing new adversary for the Caped Crusader. A potent mix of The Phantasm and The Reaper, this ghoulish character is fiercely intelligent and physically gifted. Sparks are definitely going to fly between these two over the coming months. Shrouded in mystery, I am certainly looking forward to learning more about the character's backstory and motivation.
Without wishing to provide spoilers, the conclusion of the issue is something very special indeed. Let's just say that our hero undergoes a certain change of circumstances that leave him emulating his flying rodent of choice in a very specific way. How he goes about adapting to this (temporary?) state will no doubt test his training more than ever before. Robbing a superhero of one of his key attributes is a great test of their mettle. Roll on next issue!
As if all of this were not enough, we are also treated to a bonus story from Karl Kerschl. "They Make Great Pets" is a fun tale, whimsical in nature portraying a young girl with a detective's mind that gets pulled into Batman's adventures. Donning a Robin costume certainly gives her an air of Carrie Kelley, but this never feels derivative. It's fun and provides a nice counterweight to the main story. Its cliffhanger ending certainly tees the story up for fun adventures to come.
Conclusion
Batman #119 is a must-read issue, as bringing Batman face to face with both a legendary villain and a brand new creation is a masterstroke. Engrossing from the very first panel, every page is filled with beautifully rich dialogue from Joshua Williamson that pulls the reader into this world. Only 2 issues into this new era, it looks as though this flagship title is in the safest of hands moving forward.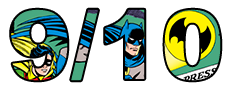 Images Courtesy of DC Entertainment