"The Tower " – Part one, and "House of Gotham" – Part one
Writers: Mariko Tamaki and Matthew Rosenberg
Artists: Ivan Reis and Fernando Blanco
Color Artists: Brad Anderson and Jordie Bellaire
Letterers: Ariana Maher and Rob Leigh
Review by James Attias
New Year, New You? NO, NO, NO… New Year, New Comics! I'm happy to introduce you to the now weekly Detective Comics #1047, and the new era starts with a bang!
Arkham Tower… Now Open
This issue was the perfect way to kick off the first Detective Comics book of 2022. The cover, first and foremost, is a thing of beauty. People say don't judge a book by its cover, but this time they'd be wrong. We're thrown straight into the press conference of the new Arkham Tower, as well as a one-page Tarot card "the tower" to give readers an immediate chill up the spine. Nothing good can come from this, even something supernatural, perhaps?
Deb Donovan is, as usual, asking the questions that need asking, and the new character, Dr. Wear (Where? Weir? Not a huge fan of his name) is schmoozing the crowd. For those of you not from the US, allow me to explain; in the States, medicine and healthcare are a business and a financial gold mine. With that in mind, this new character reeks of slimy salesman.
Then before we know it, it's Die Hard in Gotham time. The tower's under attack, with hostages, terrorists, heroes trapped inside. How did we get 24 days into a hostage situation? Where are the heroes? Can Batwoman lead the team in or out?
Mariko Tamaki means business with this issue, hitting the ground running and definitely branching out with more characters in this storyline. I, for one, am excited to see how the weekly title holds up, as being consistently good on a weekly basis is no easy feat. Ivan Reis, I welcome with open arms to Gotham City, as the art in this issue was dark, exciting, and beautiful. What a start!
Scary Clown And A Monster With Wings
Our secondary story felt like it was over in a second. This short little prelude to something bigger did a fantastic job of reminding us how terrifying The Joker can be; telling jokes as he kills people around him, and showing that there are unseen victims to his crimes that sometimes even Batman can't help. I'm really looking forward to seeing how this story will tie into the main narrative.
Conclusion
Detective Comics #1047 is a fantastic start to the new year. The issue felt new but reliable. We got great writing, great art, and I am thrilled to have a Batman book every week for the first time since Batman and Robin Eternal?
New Readers, Jump on here!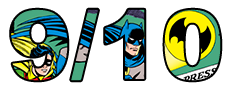 Images Courtesy of DC Entertainment