"The Joker" – Chapter Nine, and "Punchline" – Chapter Nine
Writers: James Tynion IV and Sam Johns
Artists: Stefano Raffaele and Rosi Kämpe
Color Artists: Romulo Fajardo Jr. and Marissa Louise
Letterers: Tom Napolitano and Ariana Maher
Review by Carl Bryan
I was never meant to question what I was or why I did what I did"
– Lady Bane
Lady Bane's revelations mean that there's more going on in Santa Prisca than at first met the eye. Bane is a legend, however, those behind building that legend could never even contemplate the fact he could be taken down. The Joker #9 contributes more than a chase to find the Clown Prince of Crime, it's going to be the comic that pulled back the curtain on explaining Lady Bane's origin.
James Tynion and Sam Johns' grasp of all things "Joker" is pretty extensive and the hidden lab with the missing Batman vial… yeah, no spoilers here on that one, but these writers have obviously planted some seeds for a new impending catastrophe. If not, then these are some amazing pages. They're so good that they could warrant their own storyline.
Art is key in The Joker #9. The penciling, the shading, and the colors are all popping. Purple never had it so good and Lady Bane is every bit of a baby born of Venom.  It's clear that Stefano Raffaele and Rosi Kämpe really paid attention in anatomy class! Oh, and lest we forget; we also get another chapter of Punchline, a character who has developed quite the cult following, both for readers and within the book itself. She's only been a part of Joker's life for a short time, but she's really delved deep into emulating and learning his manipulative ways! How she can manipulate everything from behind bars is truly terrifying. She's become connected to all things that can affect anyone in no time at all! I love where this character's going!
Conclusion
This series is very good, but I still don't know if it should actually be called The Joker. Two whole issues have now gone by without the main man (no…not Lobo) making an appearance. Yes, everything that occurs is largely down to his actions, but it's hard to accept this being a Joker title without the Master of Mayhem.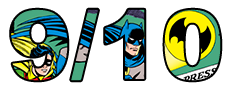 Images Courtesy of DC Entertainment