"Darkseid Is Power"
Writer: Chip Zdarsky
Artist: Miguel Mendonça
Color Artist: Enrica Angiolini
Letterer: AndWorld Design
Review by James Attias

Justice League Last Ride #5 is a comic book reader's dream! We're living in times of change at DC Comics, and everything feels like it is in transition between the past and the future. This issue shows the heroes you love, and reminds you why you love them!
Villains, Villains, Everywhere!
Chip Zdarsky's work feels like he loves these characters. As I was reading this issue, every page had me grinning from ear to ear. If I told you (comic readers, and Dark Knight News fans) that you would have a Justice League story that pays homage to Mad Max Fury Road, by having a Cyborg-Superman/Brainiac hybrid with an army of Manhunters charging towards the duo of Superman and Flash, you may well have spat out your Bat-beverage and called me a liar! It's true, though, and that's just one small part of this superhero vs super villain extravaganza!
The story takes a huge twist this issue, which I will not reveal, not to mention an army of villains: Lobo, Mongul, Cyborg-Superman, Brainiac, the Manhunters and Darkseid. I don't know if the Justice League is going to be able to pull a win out of this bag, as any one of these villains could fight them to a standstill on any given day… but ALL of them?!? To quote Star Wars: I have a bad feeling about this.
The writing in this issue is so good that you almost forget the stunning art is just sublime. Miguel Mendonça, your Justice League isn't just great to look at… They're cool too! I say that with the hugest nerdy scream I can, as the traditional designs and the new looks just make me feel this series is up there with the stand alone Justice League stories of legend!
Conclusion
This series is beautifully drawn, written to give me goosebumps every issue, and has me knocking on DC comics door shouting "When can I read the next issue?!" If you're not reading this story, jump on. If you're looking for an awesome Justice League epic with classic characters and consequences that matter. JUMP. ON.
I can't recommend this title enough.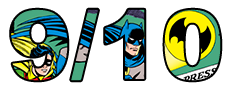 Images Courtesy of DC Entertainment