"DC Cybernetic Summer"
Writers: Corinna Bechko, Gabriel Hardman, Andrew Constant, Stephanie Phillips, Heath Corson, Joshua Williamson, Liz Erickson, Steve Orlando, Che Grayson and Stuart Moore
Artists: Gabriel Hardman, Nicola Scott, Leila Del Duca, Scott Koblish, David LaFuente, Nik Virella, Paul Pelletier, Norm Rapmund, Marguerite Sauvage and Cully Hamner
Color Artists: Mike Spicer, Romulo Fajardo Jr, Jordie Bellaire, Hi-Fi, Luis Guerrero and Adriano Lucas
Letterers: Travis Lanham, Carlos M Mangual, ALW's Troy Peteri, Steve Wands, Ferran Delgado, Rob Leigh and Rob Steen
Review by Adam Ray
The Limits of Control
We get a dark start to what I was expecting to be a very light-hearted anthology, in the new DC Cybernetic Summer special. Brother Eye will always be a stain on Batman's past, so this shot of adrenaline is a great way to kick off a special issue. We see a tense, claustrophobic race between Batman and the insidious AI. It's open enough to leave us wondering how safe everyone is. Wonderful pulp action to open a collection with.
Fandom
Now this was the light-hearted romp I was expecting. The team of the Metal Men was always a personal favourite – even today, they've maintained their 1960's flair, which is always a contrasting look to that of the sleek, modern superheroes. We get an insight into the interests of characters, good and bad, even if it's a little unexpected to hear Wonder Woman talk about Anime. In the end, it's very humbling to see Platinum get star struck. It's usually fun to meet your heroes.
Summer Camp
In retrospect, the Batman story makes perfect sense, Batman doesn't take summer vacations. Red Tornado and his wonderful family give a welcome example of a nuclear dynamic. It's very easy to see the business 'dad' getting swept up in business, and it takes real strength to tell the office to call back later. This android character has been lovingly humanised in this story, giving us another reason to love him even more.
The Boys of Summer
One of the greatest double acts in comics is at it again. Over time (Ted Kord's) Blue Beetle and Booster Gold have always provided fun antics, for as long as I've been reading them. "The Boys Of Summer" is a harmless, brainless romp about these two iconic – and historically big personalities – trying to find the perfect spot on the beach. It's nice to hear that the world's greatest heroes have some very real problems.
The Speedster Games
We get an offbeat conflict in this tale. The summer isn't just about ice cream, vacations, and relaxing, it's also when sports happen… apparently. The epic race between different speedsters from different parallel earths has us wondering who's the fastest Flash out there.
Summer Lovin'
The art team did a wonderful job on this story, really adding to a feel of it being set in the 50's. The look of the classic farmhouse, outdoor theatre, and diner; coupled with the classics of 50s comics, with the character line-ups, and vivid colors, all together add to a very retro vibe. It's made even more retro when you consider the title to be from Grease lyrics – a slice of 50s flavour from the 70s. We really feel for the many faces of Cyborg Superman. Sometimes summers aren't just times of heat and happiness.
Out There
Summer is the time for pride. As a member of the LGBT community, the quality of the representation that Midnighter and Apollo brings is so important. This story makes a reader remember that love and its expressions have grown more broad and more tolerant. I think the love between a talking gorilla and a disembodied brain are even more imaginative, but I don't think that's something to be shied away from. People will become more tolerant to ape/organ bonds – ones that I truly didn't realise existed until this story said so.
Splish-Splash Special
I can't remember when I was last at a watery amusement park. Probably on my last vacation to somewhere much hotter than my base here in England. We can really feel for Harley in this admittedly wholesome story. Sy, who I know best from the Harley Quinn animated series, does his best to lift her spirits. It's fascinating to see comics creators inspired by classic vines, and other unlikely slices of internet humor. With a collection like this, the writers and artists are having their own kind of fun,
Summer Bummer
Of course, summertime isn't always fun. Robotman, of the Doom Patrol, presumably still fresh off his accident, is trying to adjust to robot life. His friend who resembles Jeff Bridges (of The Big Lebowski fame) is trying his best to cheer him up. I like this story for bringing people together, the same way summer brings groups of friends together. Organising your free time to do things you find fun really helps when you're going through a big change. It's also incredibly exciting to see such seasoned artists illustrate something as familiar as a comic-book store. Eagle eyed fans of Alan Moore need to look closely.
Catfish Crisis
Three big figures clash in an unexpected way in this story. In the widest visions of the DC Universe, it's very plausible to imagine somewhere out there is a dimension where three characters have fused into one. I'd believe it over another character in cosplay. I think that's the best part of a collection like this, the team has the license to have a lot of fun with unexpected stories.
Conclusion
The season to vacation might feel a little more strange this year, compared to years gone by, but stories like the ones in DC Cybernetic Summer give us heroes to root for, and stories to giggle over. It's a lovely offering by masters of comics today.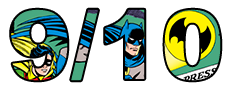 Images Courtesy of DC Entertainment