"Christmas Hamlet"
Writer: Sam Humphries
Artist: Sami Basri
Colorist: Hi-Fi
Letterer: Dave Sharpe
Review By: Kendra Hale
Sorry, Blitzen!
Harley Quinn #68 is upon us for the Xmas season! Holiday Greetings indeed, friends. When we last left Harley she was trying to make it through Thanksgiving with her family, which didn't go over so well for poor Harls. We come into this issue as Harley is arriving at her vacation spot for the holidays. It is an exclusive resort for only those of the highest levels of cheer called Christmas Hamlet. Let's dive fully in!
Holly Hunter Calling
This issue gives us the story of Harley trying to restore her glad tidings in the Christmasiest place on Earth. As she arrives she's greeted by one of the workers who goes over Harley's itinerary down to the last detail; including a special Christmas name. As she walks through the Hamlet though, many sights instantly take her back to moments with her Mom. Unable to hide her sadness, she sparks the ire of the Christmas spirit crazed employees around her in the resort. Things, as always with Harley, get a bit hectic.
High Five Inappropriate
This issue does forward the story from the previous issue, but for me, it felt more like a one-shot and, given the heavy atmosphere, this was okay. Sam Humphries has given readers a really good story arc that has allowed Harley to grow. One of my favorite moments is when Harley meets a young lady named Kira, who has also been shunned by Christmas Hamlet folk. She can relate to Harley in her loss and, as a result, what ensues is beautiful chaos brought to life with the wonderful art of Sami Basri and colors by Hi-Fi. There are definite moments of camp, but they're done at the right moments and they add to the story, rather than take anything away from it.
Conclusion
I adored Harley Quinn #68, it was a really good way to end out the year and ring in the holidays. I like the character development done this issue and there are some moments of action that are just beautiful. Happily, recommend this one with 9 out of 10. I am fully looking forward to seeing if they go forward with the great teaser at the end of the book for issue #69. Guess we will have to wait and see in 2020!
Let us know your thoughts in the comments below and until next time readers, Happy Holidays!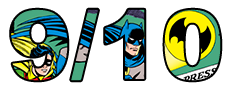 Images Courtesy of DC Entertainment