"Hammer Of Justice" – Part Four
Writer: Jeff Lemire
Artist: Michael Walsh
Letterer: Nate Piekos
Review by Kendra Hale
Cheap Hair Dye
Black Hammer/Justice League #4 is out, and it leads the way to the end of this series crossover. I have been so amped up reading these comics, as the story has been enthralling. The characters from Black Hammer that I have gotten to meet have been intriguing, and it's always nice to get a good Justice League story with old friends. One of the covers to this issue features my favorite Leaguer Zatanna and Black Hammer's Gail, and that was enough to immediately put a smile on my face. What was inside the book got me laughing… let's dive in!
Lovely Chaos
Black Hammer/Justice League #4 begins exactly where issue #3 sent us into the whirlwind. We rejoin Gail and her gang in the Justice Leagues universe as they're struggling to tell the League, with the help of Zatanna, just what has happened. Unfortunately, the remaining Leaguers aren't keen on hearing what they have to say. Then Spectre joins the fray, as he's after Golden Gail. On the Farm, the poor quartet of Superman, Batman, Wonder Woman, and Cyborg are now almost fully awake, after chatting with the malfunctioning Walky Talky. The biggest surprise, however, comes when Flash, Green Lantern, and Colonel Weird find out the truth about the purple suited man!
… Not A Martian
This issue was fabulous. Not only was the flow of the three different views cleanly written and paced and easy to follow, but the humor was perfect I love the banter between the characters, it's one of my favorite parts of the series. The artwork is really great and the facial expressions really convey the characters' emotions. There's one scene in particular that got me, where Zatanna's telling the Black Hammer folks that Martian Manhunter is really a big softie, and the look on her face is one of bemusement. It is truly a great scene and wonderful character moment.
Conclusion
The team on this series; Jeff Lemire, Michael Walsh, and Nate Piekos, have truly conjured up something wonderful indeed. This story's great fun and has given me a new group of characters to enjoy once this arc is over. I really enjoy crossovers for that reason, to get to know new heroes and villains, and to see them interact with old favorites. I'm really looking forward to seeing what comes next for both gangs of characters after the series comes to an end.
What have your thoughts on Black Hammer/Justice League #4 and the series been so far readers? What did you think of the reveal? Leave us your comments below, and we'll see you next time for the next thrilling installment!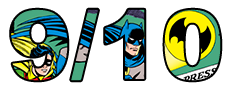 Images Courtesy Of Dark Horse Comics and DC Entertainment