Secrets of Sinister House #1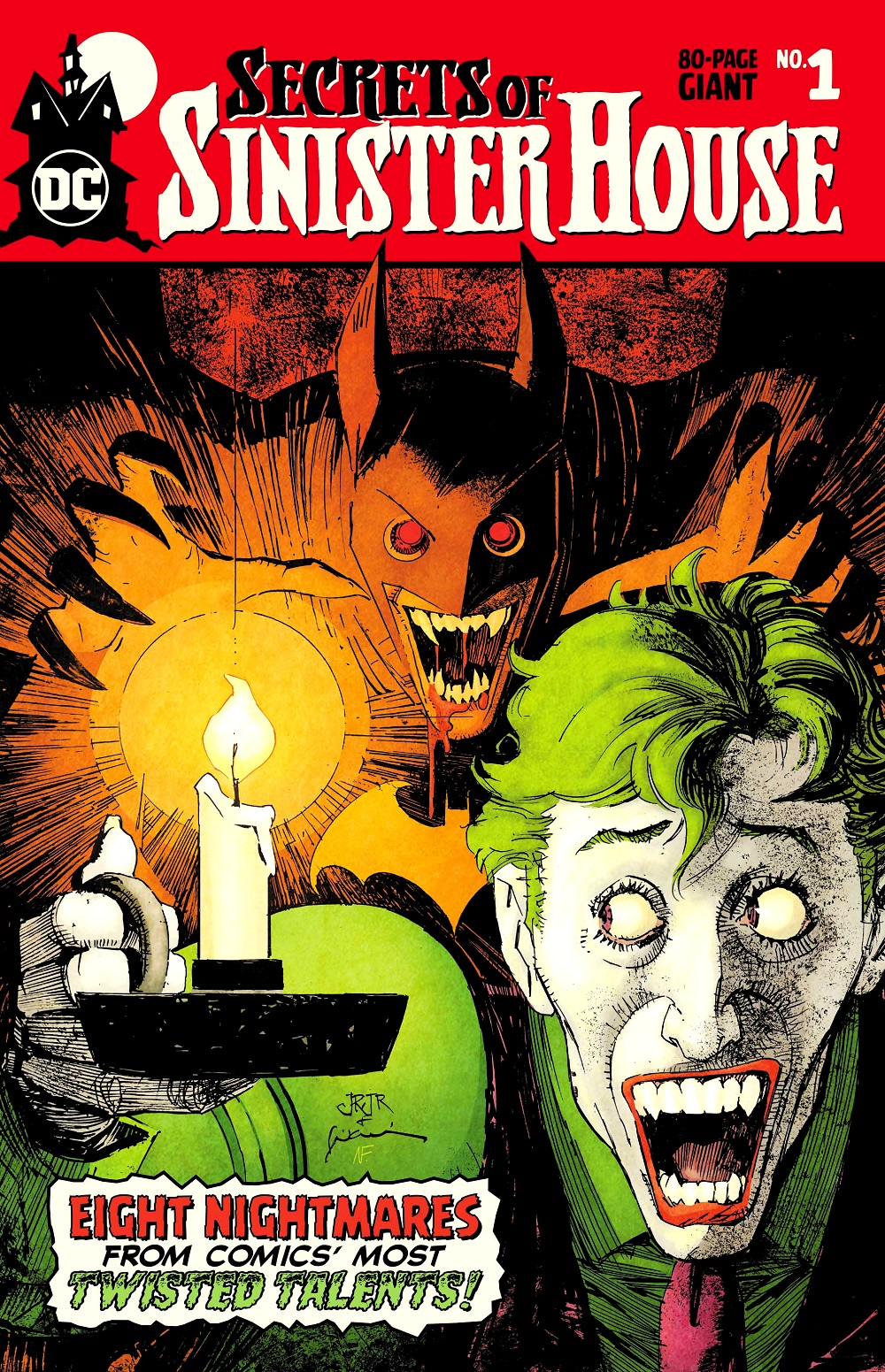 Writers: Rafael Albuquerque, Rafael Scavone, Dan Watters, Paul Dini, Diego Lucero Lopez, Robbie Thompson, John Layman, Che Grayson, Bryan Hill
Artists: Rafael Albuquerque, Sumar Kumar, Cain Tormey, Phil Hester, Ande Parks, Tom Raney, Jorge Fornés, Miguel Mendonca, Alessandro Vitti
Colour Artists: Dave McCraig, John Kalisz, Romulo Farjado Jr., Jeremy Cox, Hi-Fi Colours, Jordie Bellaire, Bill Crabtree, Adriano Lucas
Letterers: Tom Napolitano, Troy Peteri, Travis Lanham, AndWorld Design, Rob Leigh, Steve Wands, Dave Sharpe, Willie Schubert
Review by John Hammond
The Halloween season is upon us and DC Comics have offered up a terrifying anthology of stories in Secrets of Sinister House #1. This is a blockbuster collection of 8 spooky stories over 83 pages, where DC bring the best of Gothic horror to the printed page.
The issue features writers such as Bryan Hill, Paul Dini and Dan Watters, so you know you're in for a terrific read. With characters like Batman, Detective Chimp, Zatanna, Harley Quinn, John Constantine and The Atom, the DC roster is suitably represented in this book.
A Nightmare Mist
Vampire Batman – do I need to say more?  Straight from the Red Rain universe, we see this Batman with red eyes, long nails and sharp teeth. It's a simple story; Batman saves a child, however this it executed in fantastic fashion. The story is creepy, haunting and has wonderful art by Rafael Albuquerque. The fight scene with the Court of Owls contains some of the finest panels I've seen in a comic this year. Brilliant!
The Footsteps of Old Worm
Ryan Choi as The Atom – again, what more do I need to say? A spate of suicides leads The Atom to help a doctor to determine why these are happening and what causes the victims' descent into madness, calling out the Old Worm. This tale has wonderful art and colours that enhance it, and the choice of using the journal entries of Ryan Choi to tell the story is a brilliant touch. For me this is one of the best stories in this anthology.
Calling Dr. Bonkers
This story has perhaps the best title of the all tales in this book. Harley Quinn and Zatanna together in one story? Yes, please! Not only that, but killer clowns too… what's not to love? With Halloween now a dull holiday, Harley and Zatanna decide to go elsewhere; stopping off at an inn with a clown theme.  Suffice to say, it all kicks off. There's spooky art, that will have those suffering from Coulrophobia turning the book upside down, an impressive feat for a comic book. I for one, am not a fan of clowns.
Out of My Skin
A story that features Martian Manhunter. It could be said that this is the weakest story of the book, and it's still a winner. It's all about the body horror, with Martian Manhunter going up against a skin stealing monster.  The crux of the story though is that monsters are more perplexing that they may at first seem. There's some great writing, but the star of the story is the art, which fits the body horror element. I think it needed a few more pages, through the emotional ending suits the character.
Dreamweaver
Detective Chimp takes centre stage here, as he's on the hunt for missing members of Justice League Dark. This is a trippy tale, where Bobo soon realises that the JLD are living their nightmares. All he needs to do is beat the magic. This brings a lighter feel to the second half of this book, which is very welcome. Good effort to those involved in this one.
House of the Dead
I'm sure that Deadman is a character that deserves to appear in a book such as this. Not to disappoint, John Layman gives us a haunted house tale with a superheroic twist. The story has a gothic setting that's drawn beautifully and contains some great writing. This is classic horror, with a house that drives a family to the dark side.
Fear 101
Jessica Cruz, many people's favourite Green Lantern, makes her mark in a story that sees her on a spaceship which is attacked by a space creature. That's not the whole story, though. There's a lot of focus on the anxiety that Cruz feels, which makes her relatable to so many. Kudos to Che Grayson for exploring this part of her character. The art is great, as it has been with all these stories.
Hell is for Dreamers
No Halloween special would be complete without the appearance of John Constantine, and here he is to close the book. Who doesn't enjoy a good and pulpy ghost story? Here we see Constantine out to get justice for movie star who's been murdered. It's a simple story, but an effective one. As you would expect, he comes out on top, but not before being caught in the middle of some really dark forces. I read this story and the voice I hear for Constantine was none other than Matt Ryan's. Perfect.
Conclusion
I loved this book, as it's a perfect read for Halloween. I'm a massive fan of anthologies in any medium, so this was always a must read book for me. These are horror stories that are all told very well, with brilliant writing and sumptuous art, and twists and turns aplenty. My favourite stories in this anthology are "A Nightmare Mist", "Calling Dr. Bonkers" and "House of the Dead."
I urge anyone who has an affection for the darker side of the DC Universe to pick up Secrets of Sinister House #1. You will NOT be disappointed.

Images Courtesy Of DC Entertainment