"Sandie Shaw"
Writer: Bruno Heller
Director: Danny Cannon
Starring: Jack Bannon, Ben Aldridge, Emma Paetz, Ryan Fletcher, Hainsley Lloyd Bennett, Paloma Faith, Jason Flemyng and Ian Puleston
[Editor's Note: This review may contain spoilers]
Review by Carl Bryan
In "Sandie Shaw" Alfred, Dave Boy and Bazza form an unlikely alliance with the Sykes Sisters, while Lord Harwood returns to take control of the Raven Society.
"I loved her!" – Bet Sykes…."You barely knew her!" – Alfred
A new partnership formed in sorrow over Esme's murder. Alfred (Jack Bannon) is crazy like a fox to team up with Bet Sykes (Paloma Faith). F-bombs are dropped, a game of good "cop"/bad "cop" is played… and eventually it spills over into "worse cop."
"Coppers… bent as Judas, the lot of them" utters Bet. Paloma Faith deserves an Emmy for her portrayal, and Writer Bruno Heller needs one for giving her these lines!
Alfred's style is fraught with shades of Batman; his appearance in the police commissioner's office, out of the shadows, is the classic Easter Egg stuff that Bruno Heller is feeding us (intentional or not)!
However, for F-bombs' sake, Alfred solves the problem pretty fast at the culmination of the episode and Bet is no stranger to dealing with bodies.  Erasing the faces with a shovel and placing them in the sewer. Geesh, I guess the lines that Alfred crosses as a young man are the ones he eventually advises Bruce Wayne not to. We can all learn from examples… whether good or bad.
A Collision Course – A brazen show of disrespect…
Black and White television is used very cleverly, and appropriately, in showing all parties watching the public rally of the Raven's Society. The feel that these were radical times is there, and this is a world where the world wide web didn't exist… only the telly!
"If you sit beside the riverbank long enough, you see the corpses of your enemies float by."
"Say No to Peace, say yes to battle."
"I don't get politics… you're born, you get F#$%ed… you die!"
Peppered among the scenes are the political unrest of the Raven Society and the lack of seriousness taken by the current Prime Minister and the Queen.
"The people love unrest and the people love veracity."
The script speaks for itself!  These lines are golden and are Emmy worthy!  This is great writing and we get to enjoy it!
A Touch of the Flu….
Thomas Wayne (Ben Aldridge) and Martha Kane (Emma Paetz) have an exchange,  but Aldridge is back to playing a stiff. There's no schoolboy charm to win over Martha and she's obviously the alpha pursuer in all of this. Perhaps I just want Thomas to really show how his family became billionaires, but all I see is a whiny man-child who doesn't get his way. Perhaps this is a "Clark Kent" facade that eventually will go away, as he obviously has secrets… but his acting is getting cold!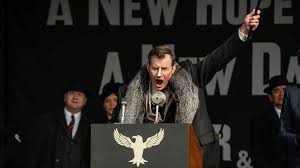 Conclusion
Whew. It's clear that the times are a-changing, and the Raven Society is mounting a Civil War endeavor. Thomas and Martha are drawing closer, despite Thomas' chilly demeanour. Alfie's methods are in a bit of disarray, as I'm now seeing he isn't the moral compass I once held him as from the Batman comics. In fact, he's a really ruthless guy once crossed!
"Sandie Shaw" was a terrific episode, and this is good television… period.

Images May Be Subject To Copyright