Article by Steve J. Ray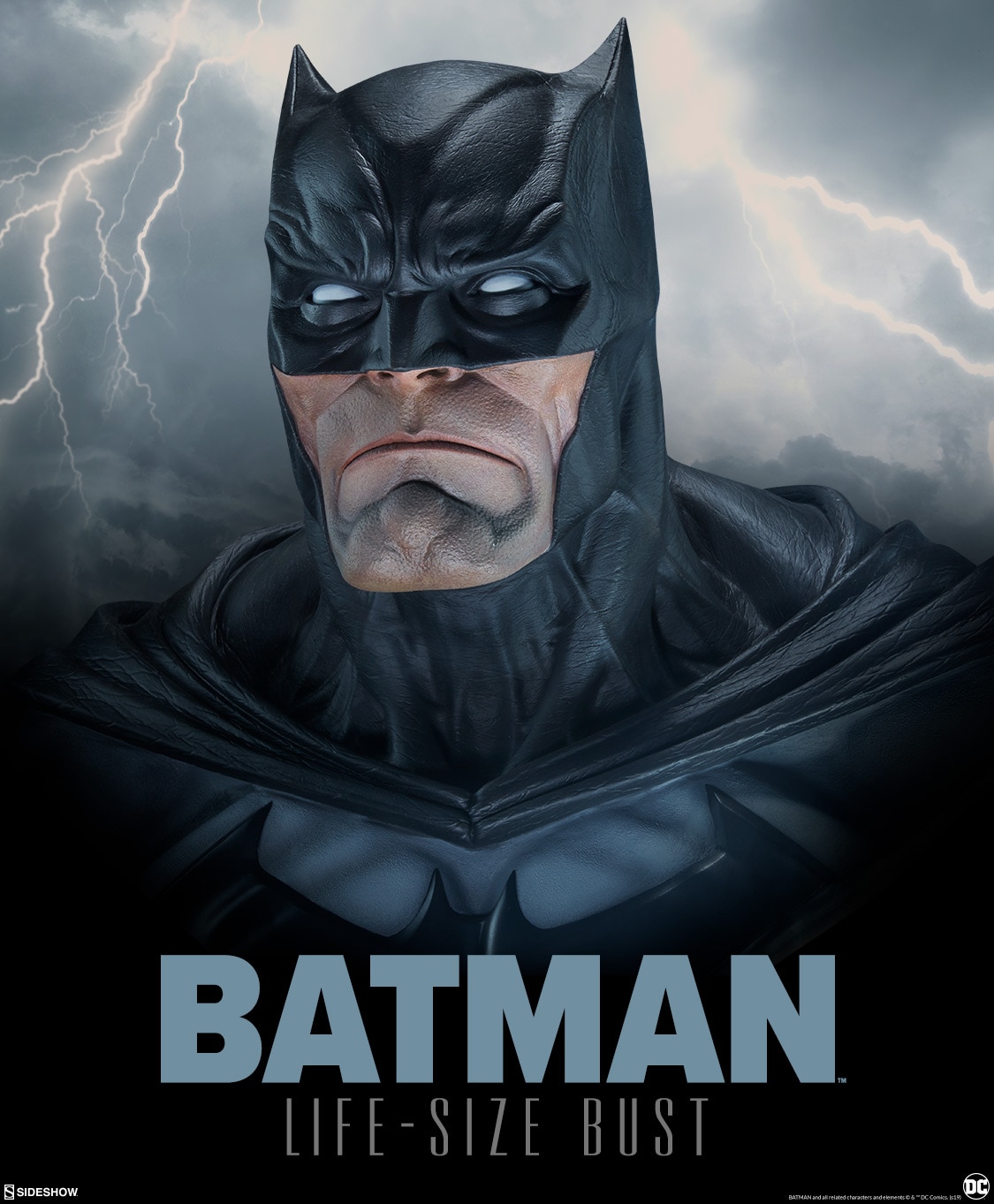 Sideshow Collectibles are set to release two awesome new Batman related items as part of their Online Comic-Con initiative. The first is a truly incredible life-size Batman bust.
The second piece is a superbly detailed figure of Two-Face, as portrayed by Aaron Eckhart in The Dark Knight.
The DC Comics inspired collectible bust will be available for Pre-Order from Thursday July 18th, 2019 between Noon and 3pm (Pacific Time). Be sure to pre-order this piece as soon as its up. Fans and collectors can join the Sideshow RSVP list in the meantime for more updates.
We have a ton of info about the Two-Face figure right now!
About The Sixth Scale Figure
"The night is darkest just before the dawn. And I promise you…the dawn is coming."

Sideshow and Hot Toys present the Two-Face Sixth Scale Collectible Figure from the hit DC Comics film The Dark Knight.

The Joker kidnaps District Attorney Harvey Dent in a ploy to distract Batman. When the Dark Knight attempts to save him, an explosion is triggered causing Harvey to burn, disfiguring him beyond repair. The tragedy leaves Dent traumatized, mentally disturbing him into insanity, blaming Batman for his condition. Harvey Dent becomes the villain Two-Face, forever carrying around a coin to determine whether he will do a good or evil deed.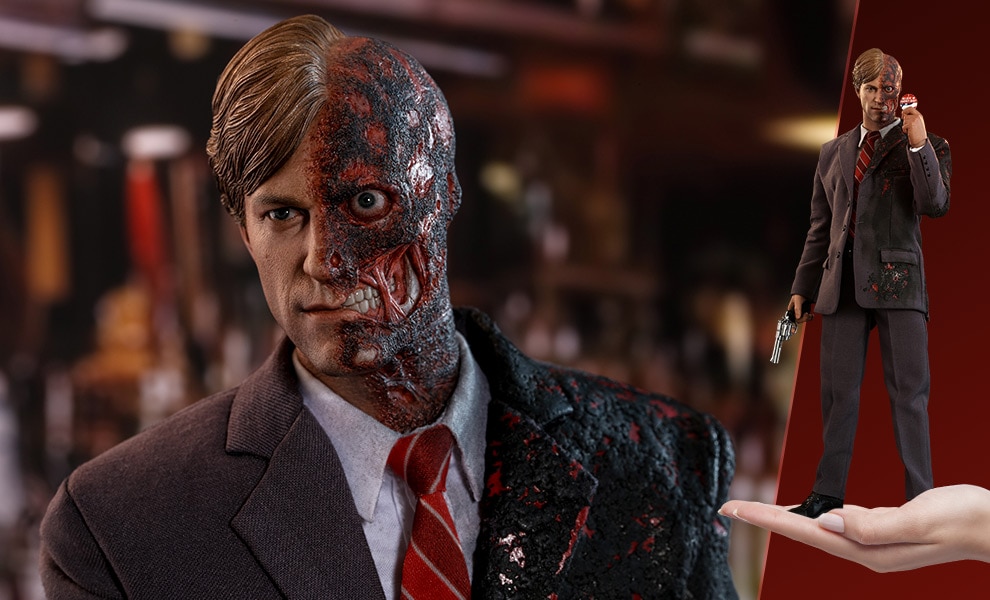 The movie-accurate collectible figure is specially crafted based on the image of Aaron Eckhart as Two-Face/Harvey Dent in the movie featuring a newly developed head sculpt with half-burned face, finely tailored suit with burn marks, and a variety of accessories including a pistol, drink, badge, coins, and a movie-themed figure stand.

Your Dark Knight collection wouldn't be complete without this Two-Face collectible figure.
Brand

DC Comics

Manufacturer

Hot Toys

Type

Sixth Scale Figure – Height: 12.20″ (309.88 mm)
Artists
E-Lee 

(Head Paint)

JC. Hong 

(Head Paint)

 

(Head Art Direction)

Yulli 

(Head Sculpt)
What's In The Box?
The Two-Face Sixth Scale Collectible Figure specially features:
Authentic and detailed likeness of Aaron Eckhart as Two-Face/Harvey Dent in The Dark Knight
Newly developed head sculpt with iconic half-burned face, movie-accurate facial expression and detailed skin texture
Detailed hair sculpture
Body with over 30 points of articulation
Approximately 31 cm tall
Five (5) pieces of interchangeable gloved palms including:
– One (1) pair for relaxed hands
– One (1) gun holding right hand
– One (1) glass holding left hand
– One (1) coin holding left hand
Each piece of head sculpt is specially hand-painted
Costume:
One (1) gray colored suit jacket with burnt effect
One (1) white colored shirt with weathering effect
One (1) red and burgundy colored neck-tie
One (1) pair of gray colored pants
One (1) black colored belt
One (1) pair of socks
One (1) pair of black colored shoes
Weapons:
Accessory:
One (1) glass
One (1) "I believe in Harvey Dent" badge
Three (3) coins
A movie-themed figure stand with nameplate
What does everyone out there think? Do you have room on your shelves for a life-size Batman bust, or a super creepy Two-Face figure? Let us know.