"Terrible" – Finale
Writer: Mairghread Scott
Artists: Paul Pelletier and Norm Rapmund
Color Artist: Hi-Fi
Letterer: Andworld Design
Review by Fay Clark
We left Batgirl after an epic fight last issue, with one of the Terrible Trio members down for the count. In Batgirl #36, we see Babs dealing with the effects of the rough situation she was left in. Trapped in the Terrible Trio's club, Batgirl is not only trying to get the bad guys, but also save herself and everyone else in the process.
Will she manage to escape and save everyone, becoming the epitome of a hero in the process? Saving people, catching the bad guys, you know… a hero's main job.
Hero In Crisis
I'm feeling mixed emotions about Batgirl #36. We get some amazing fight scenes and some quality time with our girl, knowing that this will be Mairghread Scott's last issue, however, has really got into my head. I love her writing and how deep we got to see into Batgirl's thoughts. I've said it before but having such a strong internal monologue really brings something extra to the character for me.
This might be the last time I sing Scott's praises in a while, so I might as well let it out now: She writes brilliantly. This is a writer who spreads the info out in a way that doesn't overwhelm the reader. She can write badass women like a boss. Scott creates amazing storylines and her twists are just never ending. All of that can be seen in this issue alone.
Yeah, I know… awesome.
Pelletier and Rapmund have done it again, bringing the comic to life in a most spectacular way. There was definitely a lot of beautiful color and shading in this issue. Some people might not like just how much, but I find the use of shadows and highlights incredibly appealing. You can tell from the slightest change in Batgirl's face what she's thinking before it happens. I really hope to see more of these two in upcoming issues.
Conclusion
As she ends her run, Mairghread Scott really has left a lasting impression on both the title and the character. I thought this was a great last issue for her to bow out on. How it finished leaves it open for the next writer to come in and take hold of the series, sending it in an all-new direction if they want to.
I enjoyed the way that Scott planned out this arc and didn't see a few of the twists coming. That's what makes it all the more exciting. I cannot wait to see what happens when the next writer comes in. They will have some big shoes to fill, in my eyes anyway.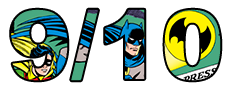 Images Courtesy of DC Entertainment