Think of a character. Now imagine that character witnessing the murder of those he loves most. Now imagine that character extracting their own form of justice on not only those that did them wrong, but those who do wrong to all innocent people. You may think that I'm talking about Batman, but one could also interpret this as the Punisher. After all, Frank Castle also saw the death of his family and decided to do something about it. 
The difference here is that while Batman does not use firearms and will do everything in his power not to take a life, with the Punisher, everything is fair game. Including (read: especially) guns and killing.
However, what if Batman went the Punisher route? What if Bruce's training and efficiency were used for lethal force? 
Fans will find out in the one-shot special issue by Scott Snyder and longtime collaborator James Tynion IV with artist Eduardo Risso in The Batman Who Laughs: The Grim Knight. This special issue will focus on the gun-toting Batman from the Dark Multiverse and explore the origins of his partnership with the Batman Who Laughs. 
Below is the cover art by The Batman Who Laughs artist Jock, as well as the solicitation information from DC Comics: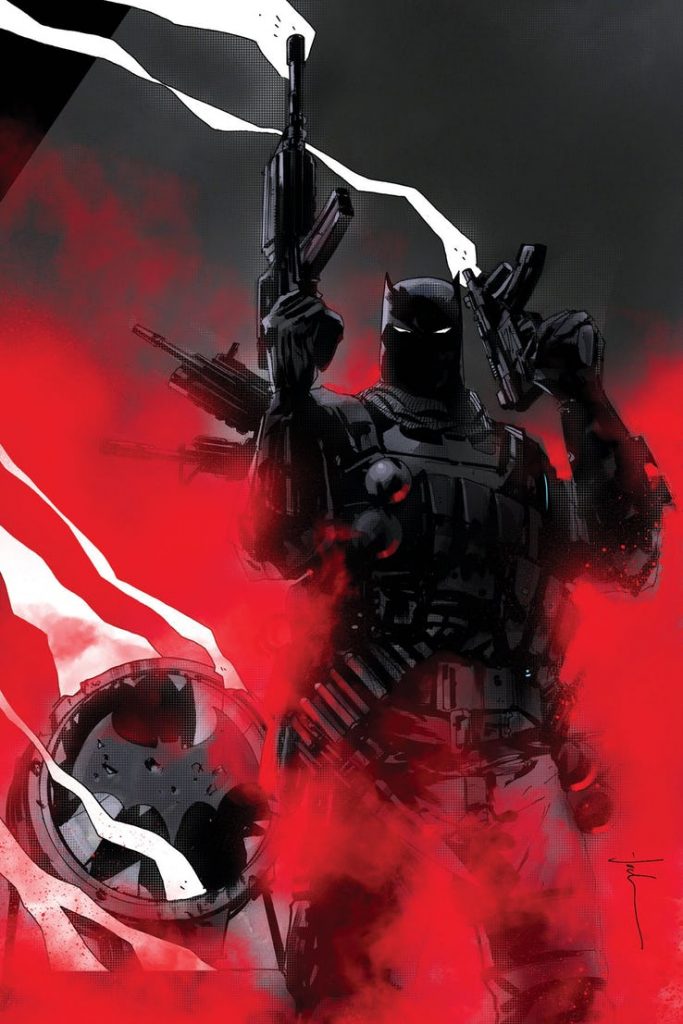 written by SCOTT SNYDER and JAMES TYNION IV
art by EDUARDO RISSO
cover by JOCK
variant cover by GABRIEL DELL'OTTO
blank variant cover available
Ripped from Batman's greatest nightmares, the Grim Knight is his world's most dangerous vigilante, unafraid to use any weapon and go to any lengths to stop those whom he deems worthy of death. Trained with the finest arsenal Wayne money can buy, learn the secret origin of the second-deadliest Batman, hand selected by the Batman Who Laughs to bring his dark plans to fruition. This one-shot has a big 28-page story!
ONE SHOT | ON SALE 03.13.19
$4.99 US | 32 PAGES
FC | RATED T+
The Batman Who Laughs: The Grim Knight #1 is scheduled for release on March 13.