Sports Entertainment fans were bestowed an exclusive network for all things WWE and its many subsidiaries back in 2014. A subscription-based service, professional wrestling fans had access to on-demand streaming services from WWE's rich history of content as well as any new pay-per-view events included. DC fans, our time has finally come. The DC Universe is coming and we've been ready for this since the Batman serials premiered in movie theatres back in the '40s. If you still haven't heard all the details, check out our guide here and sign up for the beta!
As subscribers to the DC Universe streaming service, we will have brand new content that will premiere on the network. One of them is the first live-action Teen Titans series, entitled simply Titans. Though on-set photos have not given fans a whole lot of hope, the publicity shots of Brenton Thwaites as Robin have been crowd pleasers.
Yesterday, the Internet illuminated with brand new images of Thwaites once more. This time, we have a full look at his battle-worn costume.
Take a look: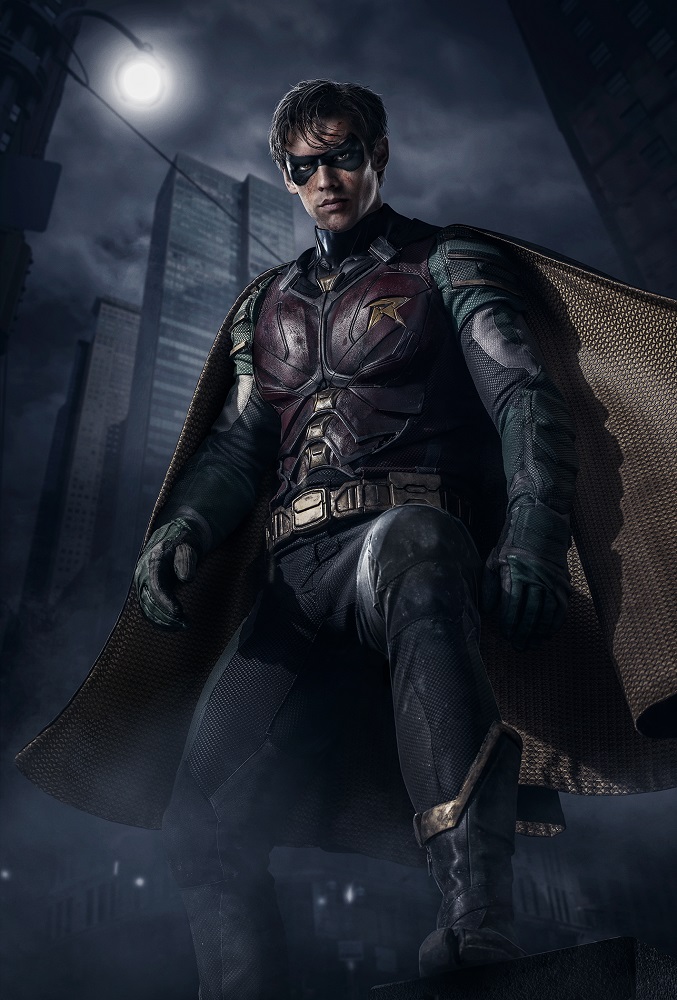 Though the photos are a little too touched up for my taste, there's no denying that Thwaites IS Robin in these shots. I cannot find a single piece of criticism to hurl in their direction. The costume retains the classic look of Robin with the red, black, and yellow, while still making it practical in the real world. The costume needs to be armored and withstand some damage to protect the wearer. These photos are flawless, plain and simple.
While I'm excited about Titans, I'm frothing at the mouth for Young Justice: Outsiders. The long-awaited season 3 to the beloved Young Justice animated series that aired from 2010 to 2014 on Cartoon Network.
DC released a brand new photo of the team that season 3 will follow… thus far. I'm not saying that because I'm trying to be cheeky, as if I know something. I'm saying this because DC is outright saying so with the file name of the image. The tongue-in-cheek file name is "The Team… for now." See the potential team below:
From left to right, background to foreground, we have Blue Beetle, Impulse/Kid Flash, Thirteen, Arrowette, Static, Wonder Girl, Tim Drake/Robin, and Spoiler. The original team is not seen in this shot, but we do know that Nightwing, Superboy, and Tigress will return. Personally, I'm excited to see the inclusion of Static. That character is extremely versatile and definitely deserves to be featured a lot more in content.
Unfortunately, the show was originally meant to premiere in later 2018, it has since been delayed until 2019. We've waited this long, what's a few a more months? Nothing but a few stabs in my heart, but I will persevere.
DC Universe is looking to be so promising, especially with HD B:TAS!
The beta for DC Universe will be launch in August.